Double Learning Tower - Varnished
Regular price
$229.95 AUD
Regular price
Sale price
$229.95 AUD
Unit price
per
Sale
Sold out
or 4 payments of $57.49 AUD
Frequently Asked Questions

When will my product arrive? We are based in Melbourne and dispatch within 24hrs. You will receive courier tracking as soon as your order is dispatched which will provide you with up to date delivery timeframes.

Can I return an item? We offer a 30 day change of mind exchange. The item must be unopened and unused - our full terms and conditions can be found here.

Can I see your Learning Tower Range in person? You can visit our Retail Store in Dandenong South, Victoria Mon-Fri. We also have a number of stockists across Australia. Contact us for interstate Stockists.
Description

Introducing the Double Learning Tower: Double the Fun for Your Little Ones!

Our adjustable Double Learning Tower is the ultimate learning tool designed for both little toddlers and big kids. Whether they're baking, crafting, playing with playdough, engaging in water play, or completing puzzles, our twin learning tower ensures their safety and comfort while keeping them at your level for interactive and secure play and learning.

The Evo Duo comes in a variety of colors and finishes carefully selected to complement popular interior color schemes. With sleek neutral tones and a range of wooden finishes, you can find the perfect twin learning tower to seamlessly blend with your kitchen's decor theme.

The My Happy Helpers Learning Tower Range grows with your child. The top platform can be easily adjusted to accommodate the height of each child. Designed for supervised use from 12 months onwards, the double learning tower is adaptable to suit your growing children's needs.
Features

See here for more information on Safety Precautions

Stunning Slimline Design
3 easily Adjustable Step Heights

Constructed with Premium Birchwood Ply

Finished with Non Toxic Paints or Soft Satin Varnish

Simply to wipe clean with a damp cloth
Weight limit tested to 50kgs


All My Happy Helpers Learning Towers comply with Australian and New Zealand Safety Standards. For more information, click HERE


Specifications

Size: 90cm x 65cm x 39.5cm


Recommended Age: 12+ Months 

(suitable once your toddler is competently standing on their own feet)
Adult supervision is required at all times, with arms-length supervision being imperative.

Please read before purchase:

Ensure your tower is not exposed to water or left standing in puddles. If water is accidentally spilled, promptly wipe it dry. Damage caused by water or water exposure is not covered under warranty.
Painted or varnished Birch Ply Wood may exhibit a slight 'pinhole' effect on the edges of the board, which is a natural characteristic of using natural timbers and not a defect.
Professionally sealed with non-toxic paints and varnishes. Please avoid subjecting your Learning Tower to water, except for regular cleaning with a damp cloth without chemicals. Soapy water or baby wipes containing chemicals and alcohol can adversely affect the paintwork and will not be covered under warranty.
The internal grooves in the plywood where the steps slide in may have a different finish, which is not considered a manufacturing fault but rather an aesthetic variation that adds to the unique charm of timber.

Experience the joy of learning and play with our Double Learning Tower. Invest in your children's growth and development while creating cherished memories in the kitchen.
Why My Happy Helpers Towers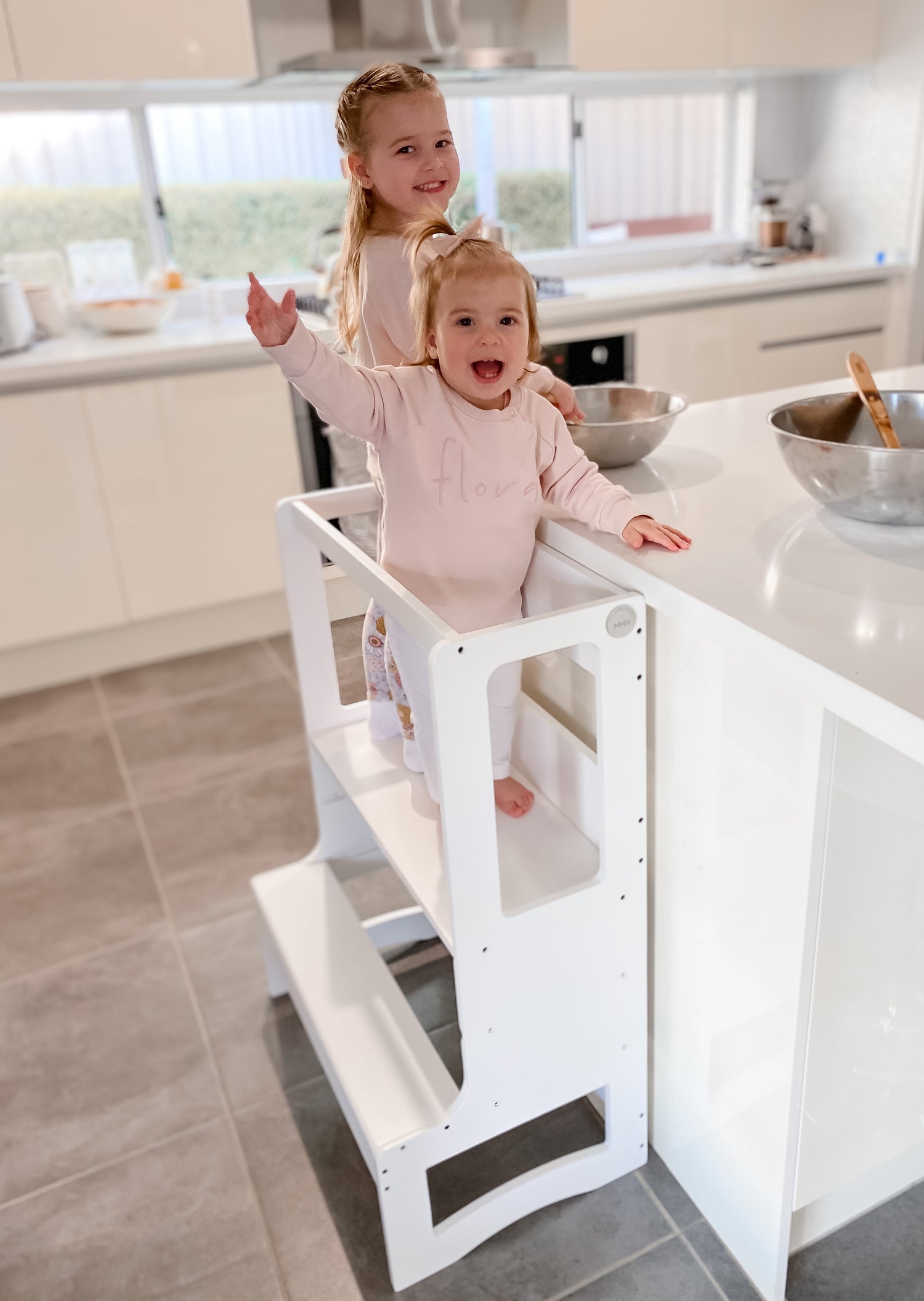 Keeping toddlers at benchtop height while preparing meals and cooking is incredibly important for their development, safety, and engagement. Here's why:
Inclusion and Bonding: By having your toddler at the same height as the benchtop, you create a sense of inclusion and bonding. They can actively participate in meal preparation, feel like a valuable part of the family, and build a stronger connection with you. It's an opportunity for them to learn about food, cooking techniques, and healthy eating habits.
Hands-On Learning: Toddlers are naturally curious and eager to explore the world around them. By allowing them to be at benchtop height, they can engage in hands-on learning experiences. They can touch, feel, and observe various ingredients, utensils, and cooking processes. This sensory stimulation enhances their cognitive development, fine motor skills, and sensory integration.
Language and Vocabulary Development: When toddlers are involved in meal preparation, they are exposed to new words, concepts, and conversations. They learn the names of different ingredients, cooking terms, and instructions. This interaction boosts their language development, vocabulary expansion, and communication skills.
Practical Life Skills: Being at benchtop height gives toddlers the opportunity to develop practical life skills. They can learn how to measure ingredients, mix, stir, and pour under your guidance. These essential life skills foster independence, self-confidence, and a sense of accomplishment.
Safety and Supervision: By keeping toddlers at benchtop height within the learning tower, you ensure their safety and minimize potential accidents. They are less likely to reach for hazardous objects, hot surfaces, or sharp utensils. You can closely supervise their activities and provide immediate assistance when needed, preventing injuries and creating a secure environment.
Building Healthy Habits: Involving toddlers in meal preparation instills healthy habits from an early age. They become more aware of the ingredients used, food choices, and the importance of balanced nutrition. This early exposure encourages a positive relationship with food and promotes healthy eating habits throughout their lives.
Invest in a My Happy Helpers Tower and witness your child's independence, confidence, and joy thrive.
Customer Photos
Cooking with the Thermomix
Unparalleled Features for Your Child's Comfort
Stunning Design Patented Slimline Design: Beauty and Function Combined: A My Happy Helpers tower boasts a stunning design patented slimline design that seamlessly blends into your kitchen or living space. It not only serves its purpose flawlessly but also adds an aesthetic touch to your home.
Weight Limit Tested to 50kgs: Built to Last: We have rigorously tested the weight limit of our tower to 50kgs, ensuring its sturdiness and durability. It can withstand the test of time, providing a reliable platform for your child's adventures.
Thousands of Satisfied Customers:
Don't just take our word for it! The MHH Adjustable Towers have received rave reviews from thousands of satisfied customers worldwide. Parents have witnessed firsthand the positive impact our towers have had on their child's development, making them a trusted choice for families everywhere.
Our customer reviews are a testament to the long-lasting impact our Adjustable Towers have on their little one's development. Parents have shared stories of their little ones eagerly exploring new heights, using the towers as a platform to engage in imaginative play, assist with meal preparation, or delving into artistic endeavors.
Our tower will become such an integral part of your child's daily routine, enhancing their motor skills, cognitive abilities, and overall growth, that you'll wonder how you ever survived without one.
Both my children love it and can easily fit. We also have a narrow kitchen, so the slim sizing is perfect! Appreciate the adjustable heights also for when the kids grow.
Love love love
Our 2 year old is obsessed, wish we'd have brought it sooner!