Kids Bookcases & Bookshelves
A bookshelf isn't just a piece of furniture: it's a gateway to unlocking a child's imagination and love for learning. Discover the wonderful world of kids' bookshelves at My Happy Helpers, where functional organisation meets delightful aesthetics. Our collection offers a solution for every need, from simple two-tier bookshelves to dynamic rotating options. Elevate your child's space with our bookshelves that go beyond storage, adding charm to bedrooms or playrooms.
Whether you need to store your child's books, educational toys or clothes, the bookshelf collection at My Happy Helpers has something for you. We're proud to offer affordable and well-priced bookshelves for your children, so you can say goodbye to your storage dilemmas today. Read More
What are the benefits of our kids' bookshelves?
A kids' bookshelf isn't just about tidying up their space; it's about cultivating a love for reading. Early exposure to books enriches language skills, and with our thoughtfully designed bookshelves, kids can easily access their favourite stories. 
No matter if your child has learned to read yet, a kids' bookshelf is a bedroom or playroom essential. Reading to your little one from as early as infancy does wonders for their language development and allows them to gain foundational literacy skills. Beyond its educational benefits, a bookshelf for kids also helps make cleaning up a breeze.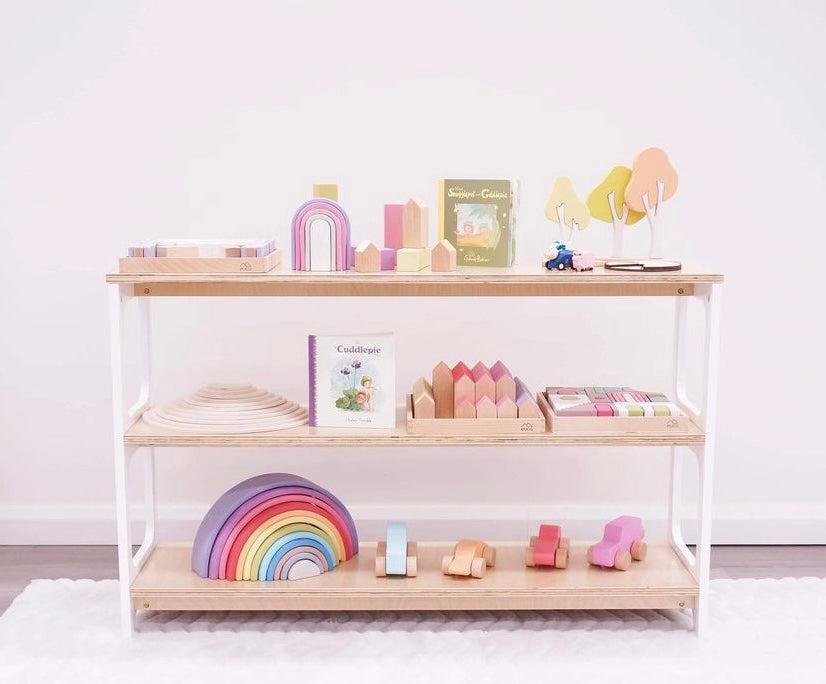 Things to consider for kids' book storage
After you've set up a special spot in their room for your kid's bookshelf, it's a smart move to create a routine for picking out books to read and keeping everything tidy. If they're old enough, they can decide which stories they're really interested in. To foster a sense of ownership and engagement, it's a great idea to involve your child in the process by allowing them to pick their own books, provided they're at an appropriate age to do so. By giving them the autonomy to select what captures their interest, you nurture their independence and cultivate a genuine enthusiasm for reading. 
Additionally, consider complementing the bookshelf area with enjoyable and inviting elements such as a plush bean bag or comfortable cushions. This creates a cosy and appealing space that reinforces the notion that the bookshelf is a welcoming corner where your child can unwind and immerse themselves in stories after a busy day.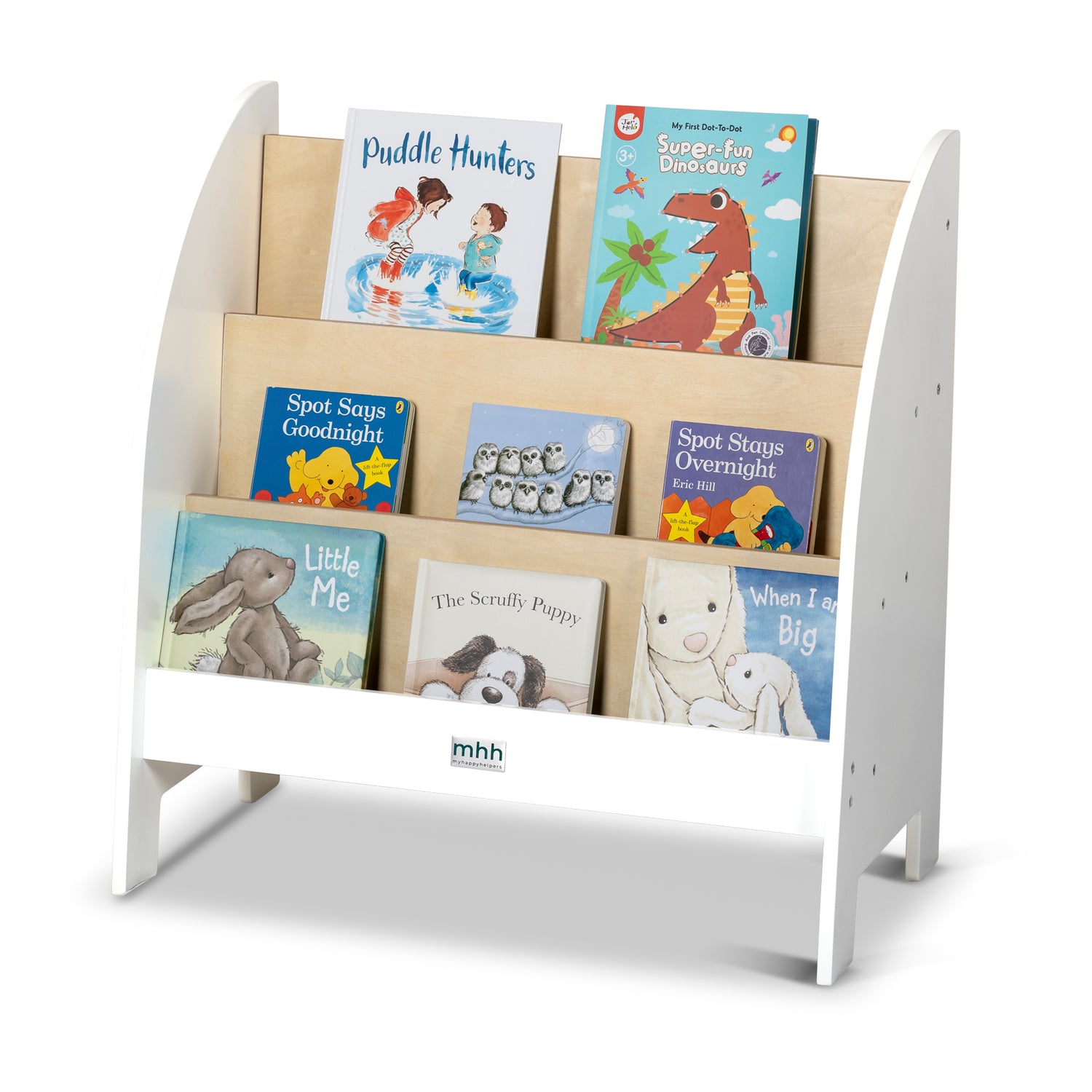 Find the perfect kids' bookshelf
At My Happy Helpers, you can find a variety of kids' bookshelves designed to cater to different aesthetic preferences and functions. One of our most popular styles is the open bookshelf. These pieces of furniture resemble charming doll houses but serve a practical purpose with their many compartments for storing books and other items. The open design not only makes it easy for children to access their favourite stories but also adds a playful touch to their room's décor.
Another popular choice among our range is the two-tier or three-tier bookshelf. These bookshelves provide a traditional bench-like structure, giving children the feeling of a comfortable reading nook while ensuring ample storage space for their expanding collection of books. This design is not only functional but also contributes to creating a cosy and inviting reading environment.
For those looking to add an element of sophistication and innovation to their child's space, rotating bookshelves are an intriguing option. These bookshelves feature a unique mechanism that allows them to rotate, revealing multifaceted storage compartments. This design is particularly beneficial for maximising storage capacity while keeping the bookshelf's footprint compact. This type of bookshelf is well-suited for children who enjoy a touch of modernity in their room décor and value efficient use of space.
Why buy a kids' bookshelf?
Incorporating a bookshelf into a child's environment offers numerous advantages that contribute to their development, education, and overall well-rounded growth. The many benefits include:
Kids accumulate a lot of bits and pieces, be it toys, clothes, knick-knacks, or books. A bookshelf offers a fantastic way to store all of these things in a convenient, out-of-the-way manner. They organise your child's life and provide a sense of calm to the play space your child lives in. 
Bookshelves not only declutter but also offer a calming influence in your child's play area. Finding toys or books becomes hassle-free, preventing unnecessary mess. 
By having easy access to their own bookshelf, children can independently choose and retrieve books they want to read, fostering a sense of autonomy and decision-making.
Bookshelves can create a reading–friendly environment, promoting a love for books. Enhance the space further with comfy cushions, creating a cosy reading nook.
Having engaging books readily available can divert children's attention from screens and digital devices, promoting healthier screen time habits.
A well-stocked bookshelf exposes children to a variety of topics, genres, and stories, stimulating their imagination and creativity. They can explore different worlds, cultures, and perspectives through reading.
Our Favourite Bookshelves
Frequently Asked Questions
How much does a kids' bookshelf cost?

You can buy a bookshelf from My Happy Helpers at a range of prices to suit your budget. Some of our more affordable options include our Open Dolls House for $109.95, featuring a light wooden colour and a minimalistic, natural design. Another cheaper option includes our Bookcase in Pink, which you can take home for $179.95. 

Our more sophisticated designs are more expensive, like our Two-Tier Tree Shelf, which you can buy for $249.95. Alternatively, buy a Kids Rotating Bookshelf to accommodate all of their storage needs. This rotating bookshelf comes with three tiers and three side compartments on each side. With the ability to spin around depending on what you need access to, this bookshelf fits into most spaces with ease, regardless of your room setup.
What are some similar products to children's bookshelves?
Buy children's bookshelf online

Discover the perfect kids' bookshelf to enrich your child's space today. Please keep in mind that bookshelves are considered 'bulky items' and may require you to organise your own courier.

We also provide a 30 day warranty on all products for your peace of mind.