Kids' Montessori Climbing Frames & Triangles
Strong, stable & lightweight, we stock Australia's best toddler climbing frames. Designed to ignite active play, exploration, and imagination, our climbing frames encourage physical activity, coordination, and imaginative journeys. Kids are naturally inclined towards exploration, and with our climbing frames, they can experience the thrill of reaching new heights safely. Imagine the joy of your child feeling on top of the world as they scale the pinnacle of their toddler climbing frame. Why not spoil them and help develop your toddler's motor skills and strength with the ultimate Pikler climbing frame from My Happy Helpers?
Read More
What is a wooden climbing frame?
Our wooden climbing frames are crafted based on the Montessori principles of movement and cognition. These frames not only introduce fun but also stimulate a child's learning and development in a safeguarded environment. From their early years, little explorers using our frames are encouraged to push their boundaries, fostering motor skills, building muscle strength, and instilling a robust sense of self-confidence. These challenges are age-appropriate in your little one's development journey and can help enhance spatial awareness, balance, and coordination while instilling them to understand their own capacities. With the help of our wooden climbing frames, your child is encouraged to do as much as they can for themselves, discovering independently and learning autonomously while being supported and guided by those who love them.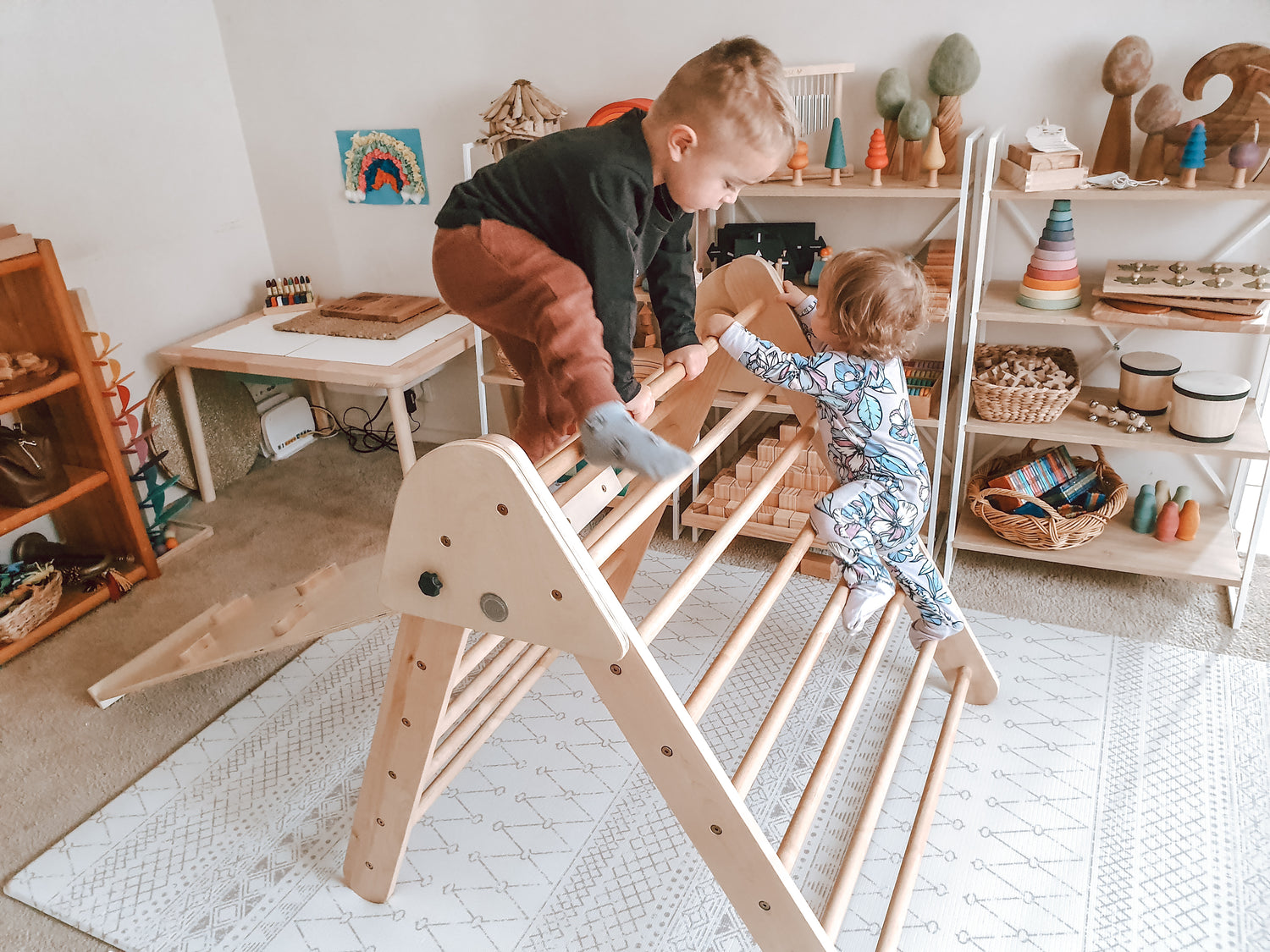 Quality Meets Design with Our Premium Range of Climbing Frames
At My Happy Helpers, we pride ourselves on offering climbing frames that seamlessly combine durability with aesthetic appeal. The superior quality of our products ensures that they remain stable, regardless of how adventurous your child gets. Whether you prefer the rich walnut tones, the sleek finish of our varnished options, or the natural look of unvarnished frames, we have something for everyone.  Our range caters to varying age groups, offering frames in different sizes to best suit your child's developmental stage. From our versatile folding Pikler climbers, the imaginative Pikler play gym, climbing frame sets and other foldable climber options that are as easy to store as they are to assemble. With straightforward maintenance and a plethora of styles, find the perfect frame that aligns with your child's needs and your home's decor.
Safety First: Prioritising Child Protection with Climbing Frames
Our kids climbing frames are meticulously crafted, placing the utmost importance on child safety. Every design aspect, from the height and breadth to the sturdiness of materials, is chosen to provide a safe yet challenging environment for young explorers. The interactive elements, including ladders, platforms, and nets, are integrated for engagement and to ensure children's well-being during play. 
Every curve, edge, and joint is tested to meet rigorous safety standards. Moreover, we pride ourselves on our commitment to ethical sourcing and supply, ensuring that each frame is safe and crafted under fair and humane conditions. These safety measures, combined with child-centric design principles, offer peace of mind to parents, knowing their little ones are in a secure play environment.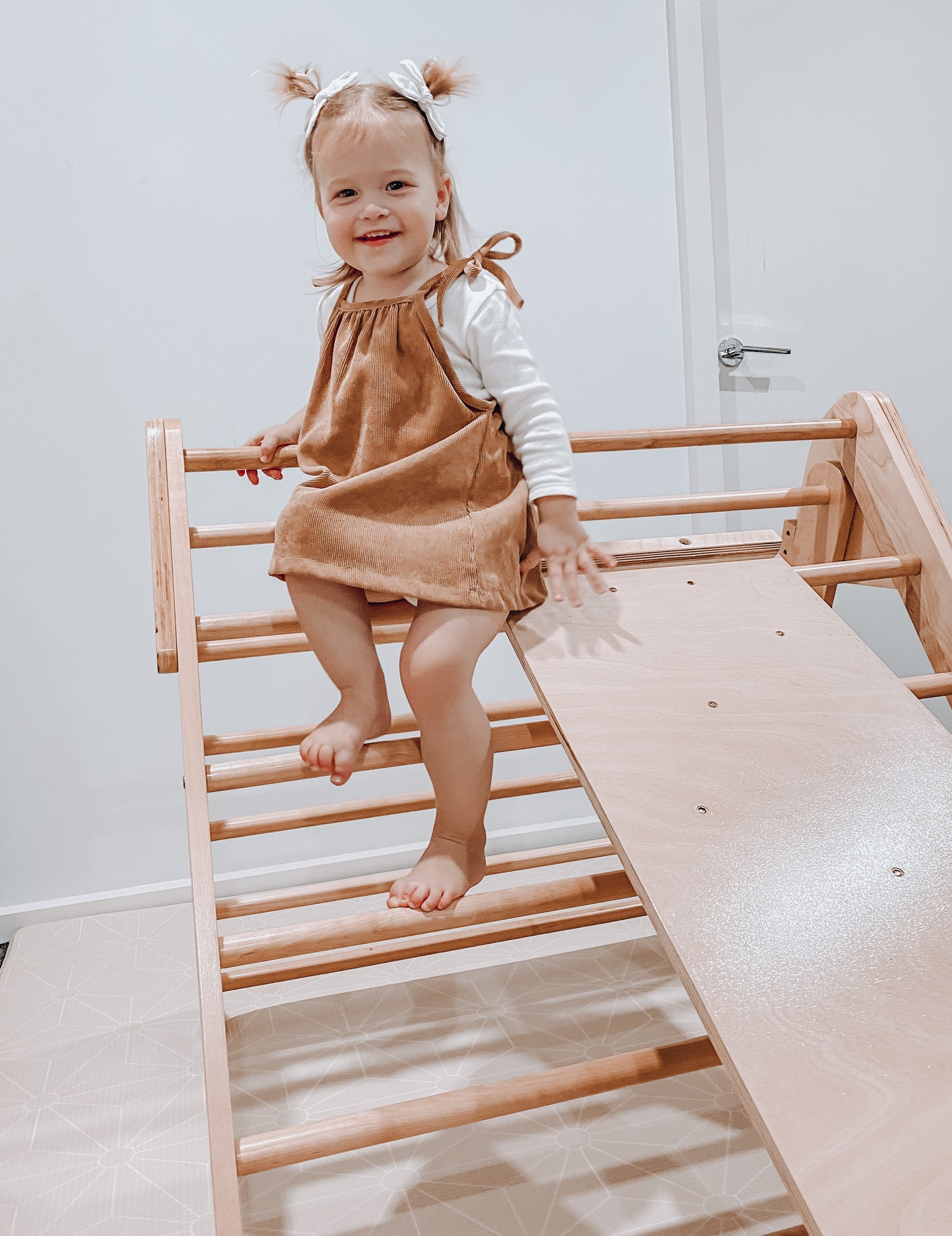 Where can you buy our climbing frames for toddlers?
We deliver and take every care that your frame will arrive safe and sound and ready for hours of playtime for your little ones to enjoy! Buy our Climbing frames in Perth, Melbourne, Brisbane, Sydney, Tasmania, Darwin and Adelaide. You can also visit our store at 12-16 Micro Circuit, Dandenong South, Victoria. We're open Monday to Friday, 10 am – 2 pm.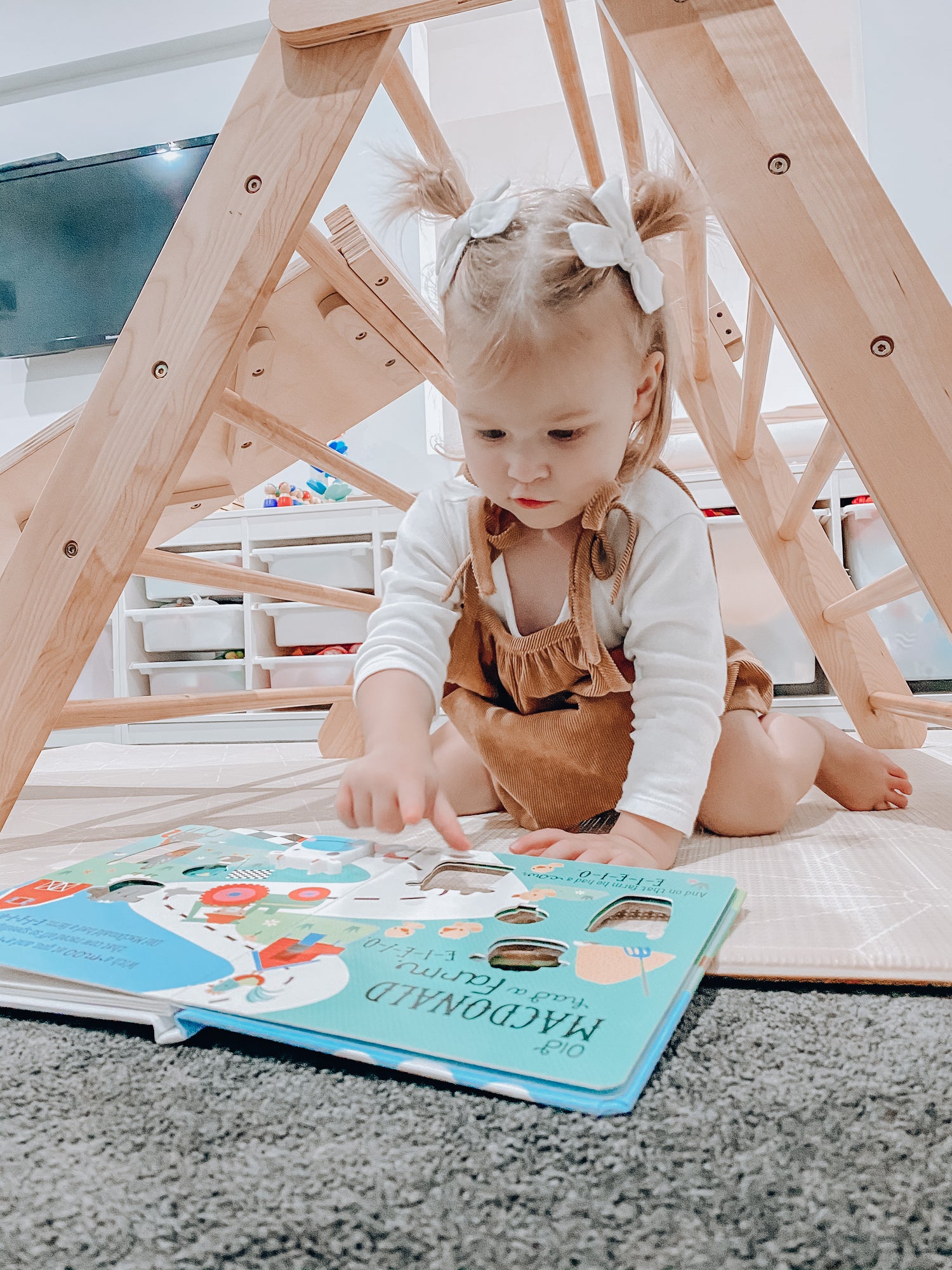 Australian-owned wooden climbing frames
Our range of wooden climbing frames includes folding triangles, wall and slides, scramble nets, play cubes and ladders. Whichever age your child is, you will be sure to find a Montessori-designed toy that will help them develop and that they'll love to have in their bedroom, playroom, or even for outdoor play! When browsing through our selection of wooden climbing frames, be sure to check the age recommendation per product to ensure it is suited for your child. If you are unsure where to start, we're only a phone call or email away, so let us know if you need help making your selection.
We offer fast and affordable shipping throughout Australia, plus we offer Afterpay so your child can play and learn now, and you can pay later! Browse online or visit us in-store at Dandenong South to find the perfect tools for your child's development.
What are some products usually purchased with climbing frames?