Solve Mealtime Struggles with our Toddler Dining Chairs
Are you tired of mealtime battles with your little ones? Do you find it challenging to find the right chair that ensures their safety and comfort at the dining table? Look no further! Introducing the My Happy Helpers range of Toddler Dining Chairs, the ultimate solution to make mealtimes more enjoyable and stress-free for Australian parents.
Read More
Dine and Grow - White & Varnish Island Chair

Unique Toddler Dining Solution

Regular price

$229.95 AUD

Regular price

Sale price

$229.95 AUD

Unit price

per
Exploring Different Types of Children's' Dining Chairs
Is your toddler too restless for a high chair but not yet ready to sit safely at the dining table without a booster chair or cushion? Look no further! My Happy Helpers presents Dining Chairs for Kids, designed to make meal times enjoyable and create precious family bonding opportunities. Our children's dining chairs combine practicality, easy cleaning, and encourages active participation in family meals.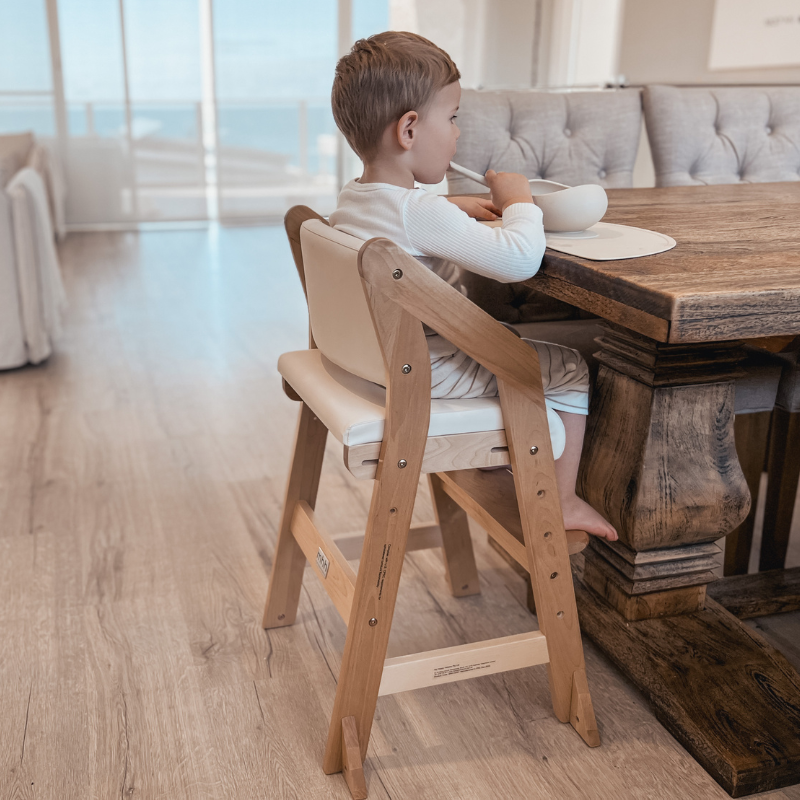 Toddler Dining Chairs: The Solution to Stress-Free Family Meal Times
Mealtimes can be a struggle, especially when you're concerned about finding a safe and suitable chair for your little one. Our Children's Dine and Grow Dining Chair is the all-in-one solution that replaces a regular chair at the dining table. By raising your child to eye level with adults and siblings, they feel more included and are more likely to engage and enjoy meal times. Say goodbye to forcing your child to eat – with their very own dining chair, they'll be eager to join the table and feel truly a part of the family bonding time experienced over the dinner table.
Why Choose a Dining Chair for Your Toddler?
Encourages family bonding: With our Kids Dining Chair, your child can actively participate in meal times, fostering a stronger bond within the family.
Adjustable seat height: As your toddler grows, you can easily adjust the seat height, ensuring your little one can continue using their Dine and Grow Chair until they can safely sit in an adult chair on their own.
Ease of use and cleaning: Our dining chairs are designed for convenience. Crafted from solid beech wood and featuring a vegan leather padded seat, they are not only durable but also easy to clean.
Finding the Perfect Toddler Dining Chair
When searching for the perfect toddler dining chair, consider factors such as safety, comfort, durability, and ease of use. At My Happy Helpers, we prioritise these aspects to provide you with a range of high-quality options to choose from. 
Choose from our classic single chair for a traditional look, the cube weaning chair for early sitters, the island chair for added independence, or the sturdy dining chair for long-lasting comfort. Beyond aesthetics, these styles offer tangible benefits to your little one – from fostering a sense of independence to enhancing posture and motor skills. Whichever style you choose, you're investing in more than just a chair; you're contributing to your child's comfort, safety, and overall development.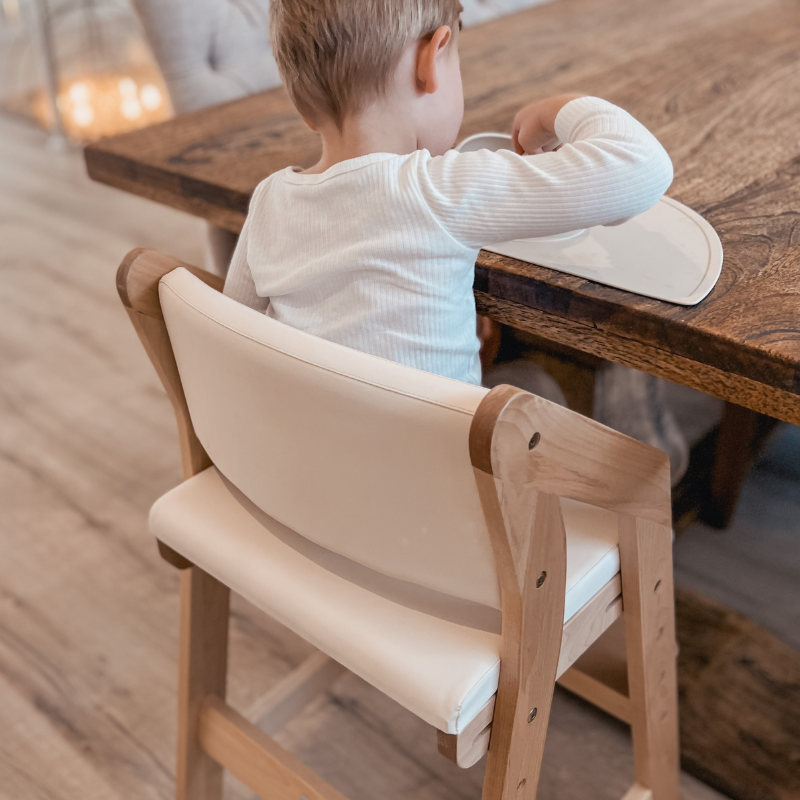 Elevate Your Dining Experience with Toddler Dining Chairs
Make meal times enjoyable again and create lasting family bonding opportunities with our Toddler Dining Chairs. Designed for safety, comfort, and convenience, these chairs will transform your dining experience. Invest in a toddler dining chair today and witness the joy and independence it brings to your child. Don't miss out on the precious moments shared around the dining table – start creating unforgettable memories with My Happy Helpers.
Remember, meal times should be a time of connection and enjoyment. With the right toddler dining chair, you can turn struggles into smiles and transform your family's dining experience. Create a delightful and functional space for your child with our meticulously designed furniture and accessories. Discover the perfect setting for crafts, meals, and playtime with our selection of kids' tables and chairs. Complement the dining experience with our charming range of kids' dinnerware, designed not just for aesthetics but also for easy handling by little hands. Don't miss out on the precious moments shared around the dining table – choose My Happy Helpers for quality, comfort, and a solution that brings everyone together.
Mealtime Made Easy with Toddler Dining Chairs
There are various types of children's dining chairs to suit your specific needs:
Portable boosters: Ideal for when you're on the go, these chairs provide a convenient solution.
Island bench or bar bench chairs: Perfect for home use, these chairs are designed for higher counter heights.
Toddler chairs for standard height dining tables: Specifically crafted for standard dining table heights, these chairs offer optimal comfort for your child.
Chairs with built-in safety restraints: For younger children, seats with safety restraints provide an added layer of security.
Montessori Weaning Chair and Table Sets: These sets are gaining popularity as the Montessori Movement becomes more mainstream. These chairs encourage independence, allowing your little ones to come and go as they please.
Unleash Your Child's Potential with My Happy Helpers
Ready to empower your little ones with the tools they need for learning and play? My Happy Helpers offers a curated range of quality, child-safe products designed to enrich your child's developmental journey. From adjustable kitchen helper towers to engaging wooden climbing frames, we have something to fuel every young imagination. Browse our online catalogue today and enjoy free shipping on orders over $199. Visit our showroom at 12-16 Micro Circuit, Dandenong South, open Monday to Friday, 10 am to 2 pm. Start your family's adventure in learning and playing now!