Kids Montessori Shelves
Our My Happy Helpers Kids Montessori Shelves perfectly align with the Montessori values of promoting independence in our little ones. If you're unfamiliar with the Montessori method, it's an approach to child development that supports independence wherever possible. With this approach in mind, our Montessori shelves are designed to create an organised and accessible learning environment in your child's room or learning environment. Crafted with your child's height and needs in mind, our Montessori storage and toy shelves encourage self-reliance and easy engagement with educational materials and toys. 
Depending on your child's age, you should look for a Montessori shelf that's around one or two feet high. Our range includes various book, toy and storage shelves that include low open designs and cube organisers. We even have rotating bookshelves so your child can spin their Montessori toy shelf and easily find the item they're looking for. Browse through our collection online today to find the perfect Montessori shelves Australia has to offer. Read More
Why buy a Montessori Kids Shelf?
Children tend to accumulate a lot of items, whether it's toys, clothes, knick-knacks or books. Montessori storage shelves are a brilliant solution, organising your child's life and bringing a sense of calm to their play space. More importantly, these shelves foster a sense of order and responsibility as children learn to tidy up and care for their belongings, removing tripping hazards from cluttered rooms. Besides, knowing exactly where each item goes makes locating that 'lost' toy much simpler!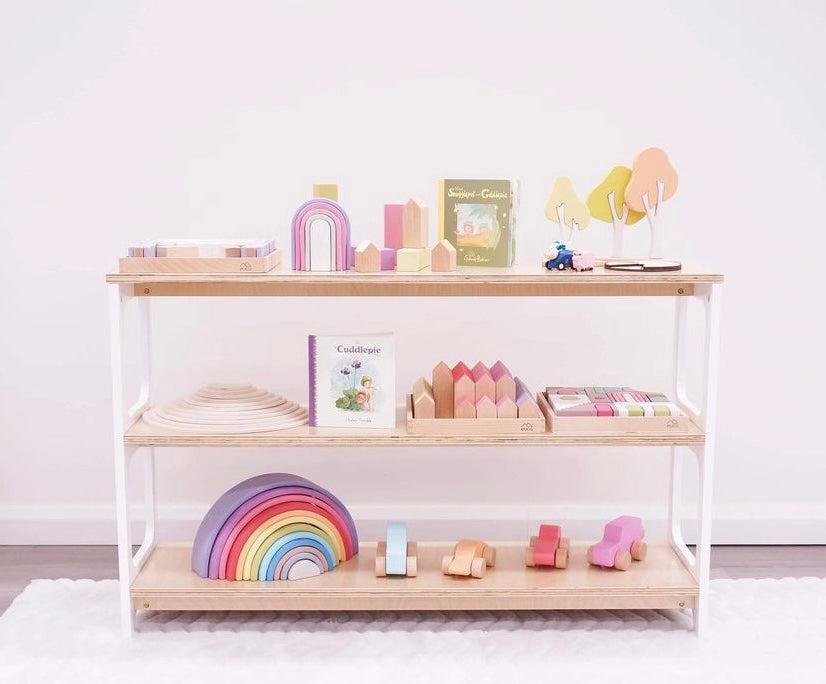 Are there different kinds of kids' Montessori bookshelves?
Our Montessori shelves come in various designs, from open shelves and bookcases resembling doll's houses, each filled with functional storage compartments. Alternatively, you can purchase two-tier and three-tier bookshelves, offering a classic benchtop feel for your child. At the most sophisticated end of our Montessori bookshelf collection, you'll find our rotating bookshelves with multifaceted storage compartments that can store more than ordinary bookshelves. All are crafted with child-safe and durable materials, adding another layer of reassurance.
What is the Cost of Montessori Shelves in Australia?
Our Montessori shelves in Australia are exceptionally affordable, considering the lifelong benefits they offer your child. Find the perfect bookshelf for your child online today, plus the offer of free shipping on orders over $199!
Frequently Asked Questions about Montessori Shelves
Why are Montessori shelves important?

Montessori shelves play a vital role in creating an organised and accessible learning environment. They are designed with a child's height and needs in mind, promoting self-reliance and easy access to educational materials. Montessori toy shelves help children gain a sense of order and responsibility as they learn to return items where they belong, fostering key life skills from an early age.
What is the Montessori shelf method?

The Montessori shelf method is an approach to organising educational materials and toys on child-friendly shelves that are easily accessible. Designed to encourage self-directed learning and independence, Montessori storage shelves are typically low and open, allowing children to select and engage with materials at their own pace. This creates an inviting, organised environment that fosters a child's natural curiosity.
When should I start using Montessori shelves?

There's no rigid age requirement for introducing Montessori shelves to your kids, but many parents opt to begin as early as when a child starts to crawl. As soon as your child shows interest in exploring and engaging with objects, consider implementing Montessori shelves to facilitate their independent exploration.
How to make a Montessori play shelf?

Creating a Montessori play shelf involves a few key considerations. Firstly, ensure the shelf is low enough for your child to reach all compartments. Use child-safe and eco-friendly materials to construct the shelf. Organise educational toys, books, and activities in a way that is both visually appealing and easy for your child to access. Remember to rotate the items periodically to maintain your child's interest. Optionally, you can customise your Montessori toy shelf by adding labels or colour-coding sections for different activities or materials.
Shop the best Montessori kid's shelves Australia has to offer!
At My Happy Helpers, we're more than just a brand; we're a community committed to enriching your child's learning journey through thoughtfully designed Montessori children's furniture. Each piece, from shelves to tables, is crafted to empower your young ones, fostering their natural curiosity and sense of responsibility. Don't miss out on the opportunity to transform your child's playroom, nursery, or bedroom into a stimulating educational environment.
Found the perfect Montessori bookshelf in Australia for your child's playroom, nursery or bedroom? Shop online today and take advantage of our flexible payment methods like Afterpay to make shelf shopping easier and more affordable. Alongside the user-friendly assembly process and options to customise our shelves, it's never been simpler to deck out your child's room with Montessori furniture and toys!
What are some other products similar to Montessori Bookshelves?
Our Favourite Montessori Shelves