Children's Montessori Furniture
Our range of Montessori Furniture for children is the very best in Australia. Embodying Montessori principles, this furniture actively fosters your child's independence and self-direction when learning and growing as individuals. At My Happy Helpers, we understand the value of nurturing a child's natural curiosity. That's why we offer a diverse range of easily assembled Montessori nursery furniture, Montessori bedroom furniture, and Montessori playroom furniture, specifically tailored to empower young minds to explore their environment safely. Read More
Discover our Montessori Furniture Collections
We have an expansive range of dining chairs, toy storage, table and chair combinations, bookshelves, floor beds and more. Fill your home with wonderful eco-friendly furniture that brightens your child's life, contributes to their educational development and is guaranteed to delight both parents and children alike. 
Crafted from safe, non-toxic materials, our Montessori furniture is designed to meet Australian safety standards while encouraging your child to develop practical life skills and a sense of responsibility. 
My Happy Helpers' specially curated range of Children's Furniture will help you transform your little one's play space and bedroom into an absolute dream. Our Kids Furniture range is inspired by the combination of traditional Montessori principles and modern parenting practices. Every item engages your child's imagination and entices their sense of play and adventure.
Why buy Montessori Furniture for kids?
Montessori bedroom or nursery furniture doesn't just furnish a home; it elevates your child's capacity for learning and independence. A child's education is more than just time spent in the classroom. They are natural sponges, absorbing valuable knowledge and skills from their surroundings. Montessori furniture in Australia from My Happy Helpers is meticulously designed to fit this learning-centric philosophy and give your child ownership of their room items to help build confidence and independence.
From low tables and chairs crafted for your child's size to the tactile joy of eco-friendly wood, these pieces aren't just functional—they're transformative. Combined with elegant bedside furniture, your children can have the most creative bedrooms and play areas ever, all designed to engage their minds and imagination. Experience this holistic learning approach in both Montessori bedroom furniture and Montessori playroom furniture, designed to engage their minds and fire up their imaginations.
What are the different types of Montessori furniture?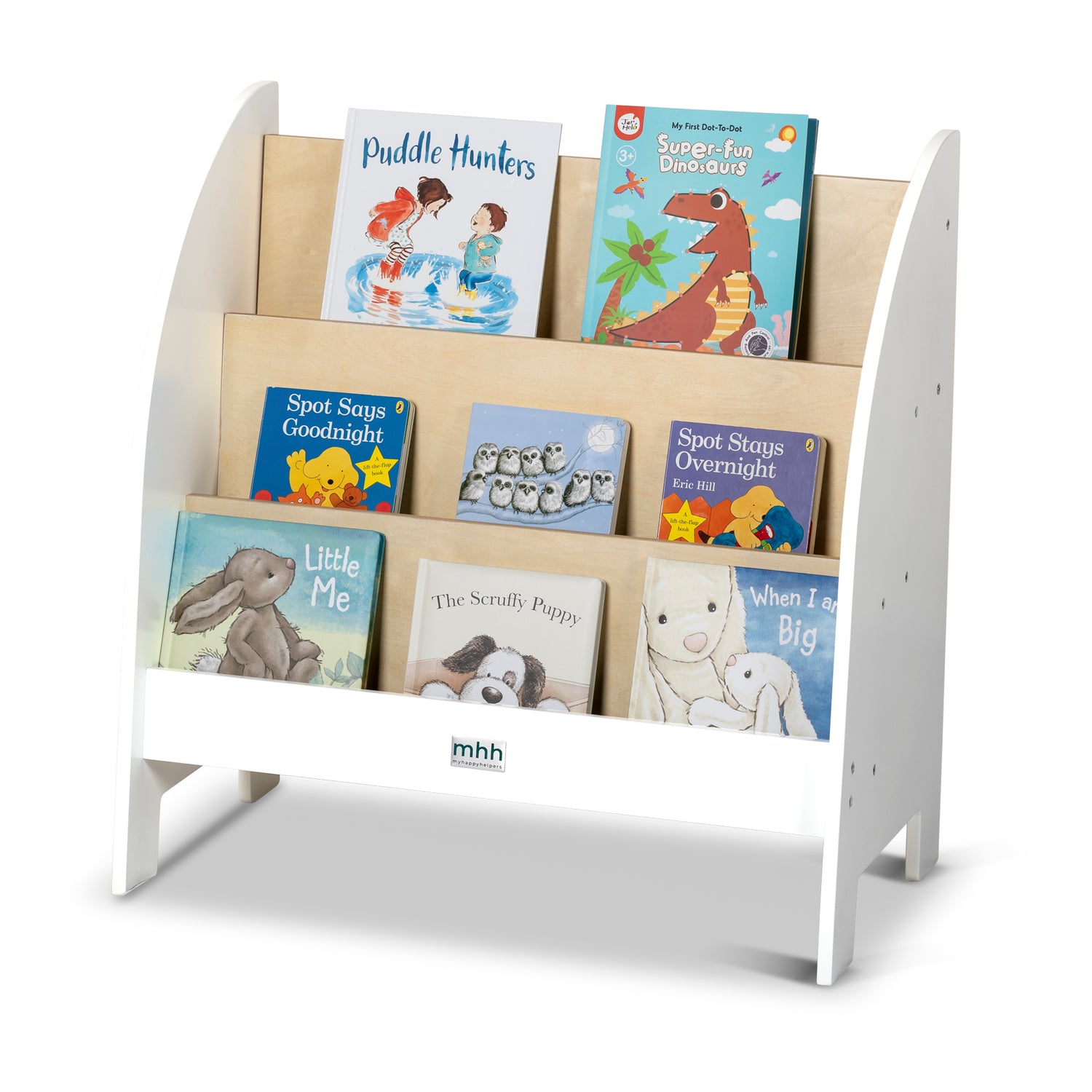 What is Montessori-Style Furniture?
Montessori-style furniture is a unique category of children's furniture designed to encourage independence and self-directed learning. Rooted in Montessori principles, these pieces are crafted to be easily accessible and usable by children, allowing them to explore their environment safely. This means lower tables, reachable shelves, and other designs that empower a child to take charge of their own space.
Why is Child-Sized Furniture Important in Montessori?
Child-sized furniture is crucial in Montessori settings because it aligns perfectly with the Montessori ethos of fostering independence. When children can comfortably reach, climb, and utilise furniture on their own terms, it aids in developing their practical life skills and instils a sense of responsibility. Montessori bedroom, nursery or playroom furniture isn't merely about the size but about empowering the child to be actively participant in their learning journey.
Frequently Asked Questions
What is a Montessori Playroom?

YA Montessori playroom is a purposefully designed space that encourages a child's natural inclination towards exploration, curiosity, and learning. Unlike traditional playrooms filled with an overwhelming array of toys and activities, a Montessori playroom features thoughtfully selected Montessori playroom furniture and educational toys that nurture a child's innate curiosity and allow for self-directed activities.
What is a Montessori Table?

A Montessori table is a specially designed low table that enables young children to comfortably engage in activities, from arts and crafts to mealtime, without the assistance of an adult. These tables are typically paired with matching child-sized chairs for a complete Montessori furniture set in your child's playroom, fostering a learning environment where children feel a sense of ownership and control, thus encouraging them to take more initiative in their own learning processes.
Is Montessori furniture expensive?

While Montessori furniture in Australia might carry a premium price tag, what you're truly investing in is your child's future. Crafted to both Montessori principles and modern-day parenting needs, these aren't just pieces of furniture. They are heirloom-quality assets intended to be passed down to younger siblings or even future generations.
Are Montessori Furniture Pieces Eco-Friendly and Safe for Children?

Safety and sustainability are paramount in our Montessori furniture. Each piece is crafted from eco-friendly, non-toxic materials that meet stringent safety standards. This ensures not only the well-being of your little ones but also aligns with responsible environmental practices. Rest assured, your child is learning and growing in the safest, most ethical environment.
Where can I buy Montessori Furniture in Australia?

You can purchase our extensive range of Montessori furniture in Australia, including Montessori chairs, tables, beds, and wardrobes, directly from our website. We offer fast and secure shipping options, with delivery to your doorstep for added convenience. You can also visit our outlet at 12-16 Micro Circuit, Dandenong South, Victoria. We're open Monday to Friday, 10 am – 2 pm.
Our Favourite Montessori Furniture Pieces