Magnetic Tiles
Magnetic Tiles provide your children with the tools to explore shape, geometry and magnetism while building and developing their creativity. With a simple click-and-connect design, your child can join pieces to each other or even get creative with the front of your fridge, all to help develop problem-solving skills and help in their educational development. At My Happy Helpers, we offer a large assortment of magnetic tiles for your little ones, from Connetix toys to Magblox Construction sets and more to let your child's imagination run wild. Read More
Watch your child's imagination take over with our multi-use Magnetic Tiles
Witness your child's imagination burst into life with our range of magnetic building tiles, leading them to a playground where shapes, geometry, and magnetism combine for joyful learning. Click pieces together to build sturdy structures right out of their own imagination, or turn your fridge into a canvas for their creative expression. The best part about magnetic tiles is their sturdy design; this means your child can easily deconstruct and rebuild to their heart's content while learning about magnetic fields and energy. 
From colourful shapes to creative structures, our collection of magnetic tiles promises to turn learning into an engaging time and offer a diverse adventure for all curious little minds.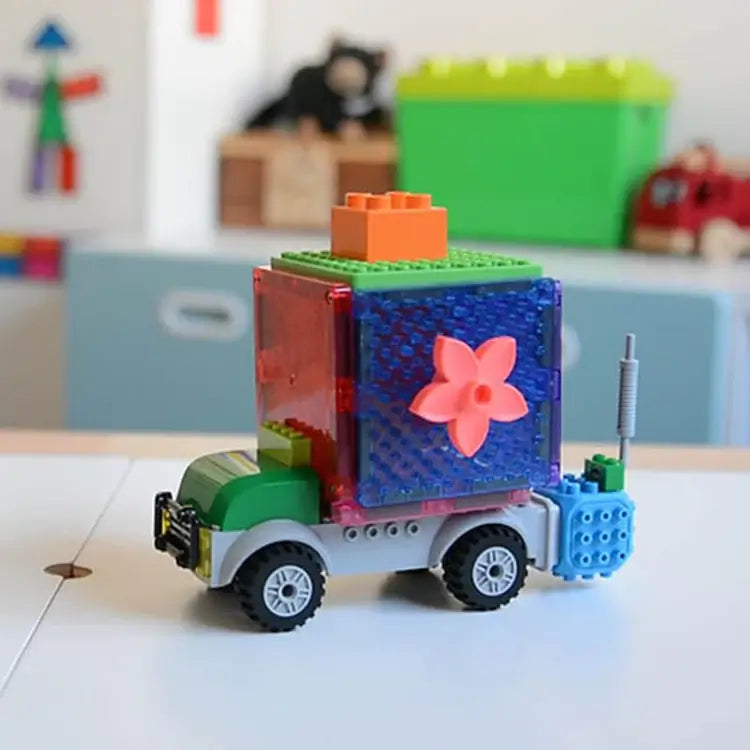 Ignite Creativity and Learning with Magnetic Tiles from My Happy Helpers
Discover a range of magnetic tiles from My Happy Helpers to offer your little one an enriching journey to enhance their sense of creativity and education. With a range of developmental products designed to keep young minds active and stimulated, you can help foster your child's growth through open and independent play. Shop our range of magnetic building tiles and other collections to see your child's creativity flourish as they explore endless possibilities. 
Explore our range of magnetic tiles and developmental toys at My Happy Helpers to inspire, educate and nurture your child's growth. Enjoy fast, affordable shipping across Australia and the convenience of Afterpay. And if you're in the area, don't miss the chance to visit our store at 12-16 Micro Circuit, Dandenong South, Victoria, open Monday to Friday, 10 am – 2 pm.
Shop Best Selling MagBlox
Frequently Asked Questions
What types of Magnetic Tiles are there?

Magnetic tiles are building blocks that can easily stick together due to their magnetic design, allowing for easy and secure construction for younger hands. There are several different types of magnetic tiles toys for toddlers from My Happy Helpers, including classic and themed tiles.

Original magnetic building blocks come in various shapes and sizes, such as squares, triangles, and rectangles. Magnetic building sets come with a variety of shapes and accessories, such as wheels, doors, and windows, that allow children to construct more complex structures and support more creative freedom in their creations. There are also tiles with pieces that connect, so you can make things like bridges and ramps that you can build and rebuild. Other sets have themes, like castles, cars, or robots, and come with specialised pieces and instructions for building specific designs. Some magnetic building tiles even come with built-in LED lights, adding fun and creative lighting to their structures. 

Each type of magnetic tile has its own unique features and benefits, so it is important to consider your needs and preferences when choosing the best set for your child.
Are Magnetic Tiles expensive?

Considering what you can get in a big Construction Pack of Magnetic Tiles and how many hours of building, play and education you'll get, the value you get from the long use of magnetic tiles outweighs its slightly higher price. Their universal design works interchangeably with other Connetix and other magnetic tile brands for added value to parents and children. This means you can keep adding to your magnetic playsets without worrying about compatibility or having the right format or system requirements. 

Created with high-quality materials and withheld to strict AU and NZ safety standards, the craftmenship and durability of these magnetic tile toys is reflected in their price and will ensure that your child can continue to utilise these magnetic tiles to aid in their education and development for years to come. 
Why buy Magnetic Tiles for Kids?

Magnetic tiles offer a blend of vibrant play and essential learning to help foster growth across various developmental stages in your little one. Unlike traditional building blocks, magnetic tiles have a unique design that allows children to build confidently, regardless of their dexterity level. 

Your child can enhance their fine motor skills, hand-eye coordination, and spatial awareness through imaginative construction and open-ended play with magnetic tiles. These magnetics can also help further develop creative problem-solving skills pushing your child to explore cause-and-effect relationships and basic physics principles surrounding gravity and magnetism. The interactive play with magnetic tiles promotes STEAM learning by introducing concepts of science, technology, engineering, art, and mathematics in a captivating way.
Which are better, Magna-Tiles or Connetix?

Choosing between Magna-Tiles and Connetix involves considering both developmental aspects and personal preference. Magna-Tiles, with their bright and clear colours, are ideal for younger children to help nurture their basic motor skills and visual coordination. On the other hand, Connetix tiles are made with stronger magnets and a bevelled design, which encourages older toddlers to create more intricate designs that boost problem-solving and spatial awareness. 

While Magna-Tiles offer timeless enjoyment, Connetix tiles provide more versatility and compatibility with other magnetic tiles on the market. They can cater to older children's advanced cognitive abilities while still being appropriate for younger toddlers. Ultimately, the decision should be based on your child's developmental stage, what they like to do for fun, and if they prefer simple or more complicated magnetic building toys. Both options, Magna-Tiles and Connetix, offer engaging magnetic construction play that nurtures creativity and learning.
Are all Magnetic Tiles compatible?

Yes, our Magnetic Tile Brands are designed to be universally compatible. Whether you've purchased from us before or considering different sets, rest assured that our Magnetic Tiles are crafted to seamlessly connect and work together. This compatibility ensures endless possibilities for creative constructions, allowing you to expand your collection with confidence. If you have specific compatibility concerns or questions, feel free to reach out to our customer support for personalized assistance. Unlock the full potential of imaginative play with our versatile and interlocking Magnetic Tiles!
Are Magnetic Tiles Safe?

Absolutely. The safety of our Magnetic Tiles is a top priority. Our suppliers adhere to stringent safety standards and regulations to ensure that our products are safe for children three years and above. Our Magnetic Tiles are made from non-toxic materials, and the magnets are securely embedded within the tiles, minimizing any potential hazards. We recommend following the age guidelines provided with each set and supervising playtime, especially for younger children. Rest easy knowing that our Magnetic Tiles are crafted with both creativity and safety in mind, providing a secure and enjoyable play experience for your little ones. If you have any specific safety-related questions, please don't hesitate to contact our customer support team for further assistance.
How to store Magnetic Tiles

Proper storage is essential for maintaining accessibility and encouraging play. There are various storage solutions to consider, each offering unique advantages. Let's explore the different options:

Storage Containers: Opt for clear plastic containers with lids for a popular and practical storage solution. Containers provide visibility, allowing you to quickly locate specific sets or pieces. Look for containers with dividers or compartments to separate different colors or shapes, facilitating easy organization. Sturdy containers also shield the tiles from dust, moisture, and accidental damage, ensuring their longevity.
Drawstring Bags: If you prefer a convenient and portable option, consider drawstring bags. Lightweight bags are easy to pack and can be hung on hooks or doorknobs. Choose bags made from durable materials like nylon or canvas for longevity. To easily identify the contents, remember to label each bag with the set name or number.
Display Racks: For those who value aesthetics, display racks offer an attractive storage solution. Look for racks with secure slots or compartments. Display racks not only provide easy accessibility but also add a decorative element to your play area or living space.

Selecting the right storage option ensures that your Magnetic Tiles remain in top condition, ready for creative play whenever inspiration strikes.
Shop Best Selling Connetix Magnetic Tiles