Children's Montessori Tables & Chairs
Browse our range of quality children's wooden table and chair sets in a variety of designs, colours and timbers, with some beautifully unique designs. Some of our favourite designs within our Montessori table and chairs collection in Australia include our Montessori Weaning table and chairs, as well as our Hardwood Table and Stacking Chair Sets. Each set is thoughtfully designed to offer the perfect blend of functionality and style, ensuring a comfortable and engaging space for your children to learn and play. Read More
Give them their own space to eat, play and learn with our toddler wooden table and chair sets
Toddlers and young children use tables and dining chairs for more than just eating breakfast, lunch and dinner. They provide a dedicated workspace for arts and crafts, practising their reading and writing skills, and fostering imaginative play with toys like building blocks. This is a space that's solely theirs to get creative and focus on their favourite activities, encouraging both social skills and a sense of independence.
When you invest in our wooden toddler table and chair set, you're buying a quality product that will complement your home's style and last for generations to come. Expertise and care have been put into the construction of all our products to ensure that your child's new Montessori furniture will help their future development and will stand the test of time throughout all your child's significant stages of early life.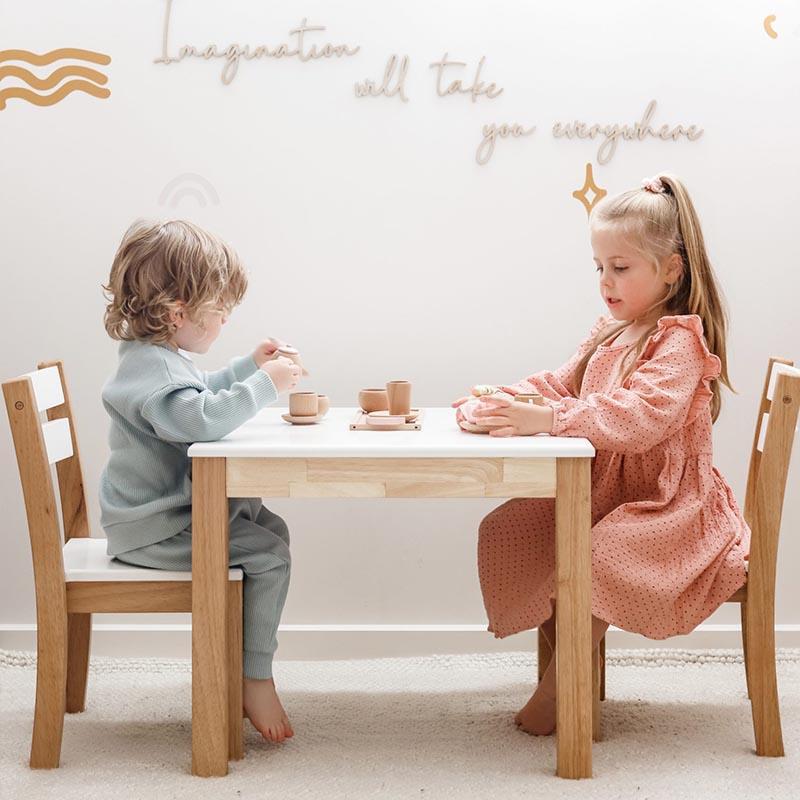 Why should I buy Wooden Tables and Chairs for my Toddlers?
Investing in kid's wooden tables and chairs is more than just a purchase; it's a commitment to your child's all-round development. These tables and chairs are constructed from sustainably sourced timber, offering resilience against the relentless wear and tear of endless hours of arts, crafts, and imaginative play. They create a designated space for your child to explore their artistic side and indulge in imaginative play, building, puzzles and fun in comfort and safety.
When your children observe you partaking in activities such as eating, reading, or solving a jigsaw puzzle at the family dining table, having their own wooden table allows them to emulate these behaviours. This makes them feel more integrated into family life and promotes a sense of belonging and inclusion. Our children's wooden table and chairs are crafted to blend seamlessly with various home decor, available in beautiful natural wood finishes that pair beautifully with a range of contemporary home decor styles, including Scandi, boho, Hamptons and minimalist themes.
Frequently Asked Questions about Children's Tables and Chairs
Are children's wooden tables and chairs expensive?

When you buy a wooden toddler table and chair set from My Happy Helpers in Australia, you're making a long term investment in a quality product that will match the interior of your home and last for generations to come. 

Each set represents the epitome of craftsmanship, ensuring your child will have a reliable, safe, and stylish space for years to come. Our kid's tables and chairs are priced to reflect this commitment to quality, offering you excellent value for your money.
What are the different types of kid's tables and chairs?

Our collection of kid's tables and chairs is unparalleled, catering to all developmental stages, tastes, styles and needs. Our range of designs available includes an adjustable toddler chair that sits well at a dining room table or the kitchen bench and can be used continuously as your child grows.

For social settings, consider our Rounded Wooden Weaning Chair & Table Set For 2 or the SOHO Natural Table and Chair Set For four Kids, ideal for tea parties or afternoon snacks. If you're looking for something fun for your child's playroom, you might choose one of our animal-themed chairs. We have an adorable Forest Deer Chair with tiny antlers and ears, a Forest Fox Chair with a cute little nose, a cushioned Wooden Cow Chair and a Wooden Bunny Chair, perfect for Easter gifting.

 

If you're seeking outdoor-friendly options, our Timber three-Seater Benchescrafted from beautiful acacia wood, provide a durable resting place during outdoor play. Whether it's modern design or Montessori principles you're after, our collection includes Montessori table and chairs Australia options to satisfy your child's needs and your aesthetic preferences.
Safety and Style: The Design Features of Our Wooden Kids Table and Chairs
Safety and comfort are our top priorities. That's why our kids and toddler table and chairs Australia range is constructed from sustainably sourced timber and is smoothed and varnished to eliminate the risk of splinters. With a design unique to the needs of your growing children, our toddler tables and chairs are built low to the ground so your little one can learn, play and eat safely. 
Explore our vast range of themes and colour options to find the perfect match for your child's interests. From playful pastels to vibrant primaries, there's something for every young personality. Easy-to-clean and durable, these sets are parent-friendly too! We offer free shipping on orders over $199 (see shipping page for more details) as well as flexible payment methods like Afterpay!
Where to buy toddler wooden tables and chairs in Australia?
Discover something truly special for your child with My Happy Helpers. We offer a variety of wooden kids tables, chairs and wider children's furniture range to enrich your child's day, from mealtime to playtime. We're your go-to destination for kid's tables and chairs in Australia, offering free shipping on orders over $199 and flexible payment options like Afterpay. To place an order, browse through our website or visit us at our Victoria factory, open from Monday to Friday, between 10 am and 2 pm. We ship Australia-wide to all states and territories, including Melbourne, Sydney, Brisbane, Adelaide, Canberra, Perth, Hobart, Launceston, Darwin and more.
Our Favourite Kids Tables and Chairs