Varnished Folding Pikler Triangle Australia - Grande
Regular price
$259.95 AUD
Regular price
Sale price
$259.95 AUD
Unit price
per
Sale
Sold out
or 4 payments of $64.99 AUD
Product Highlights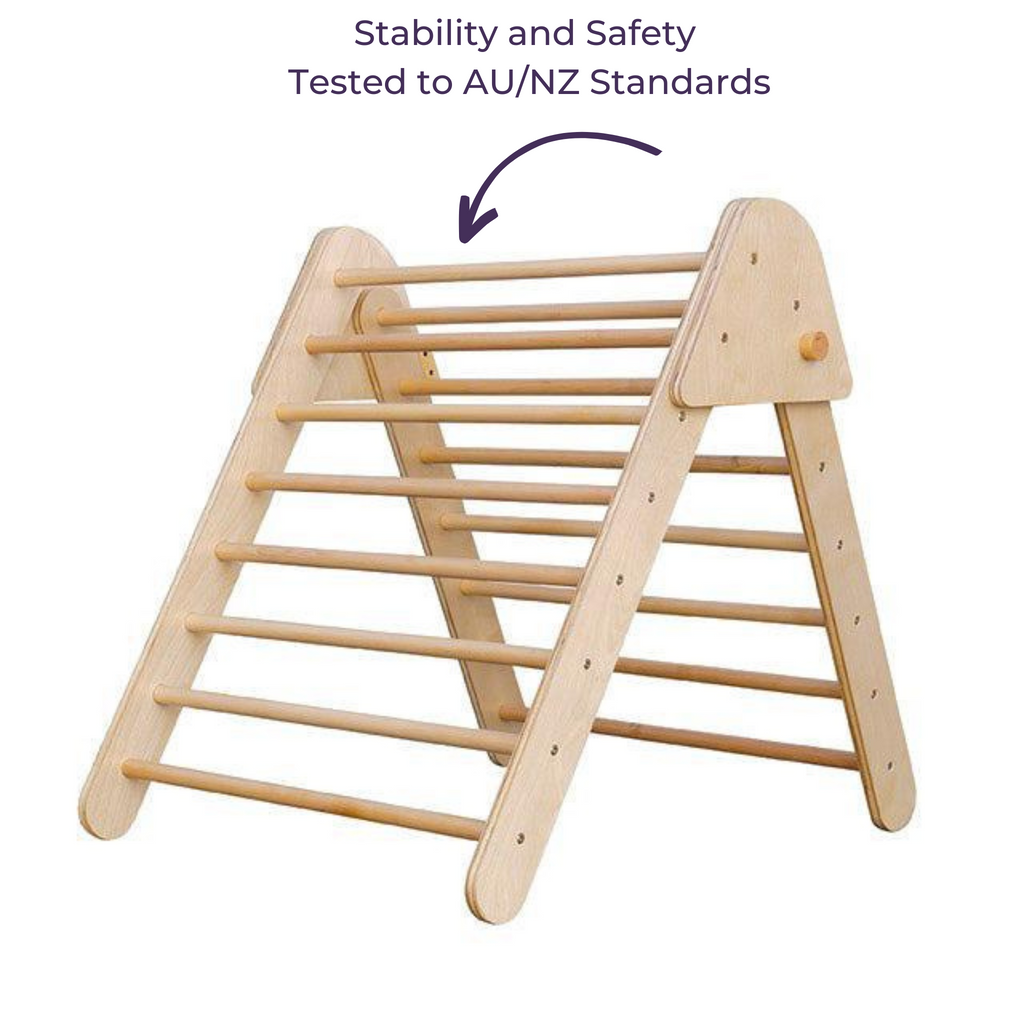 Tested to AU/NZ Safety Standards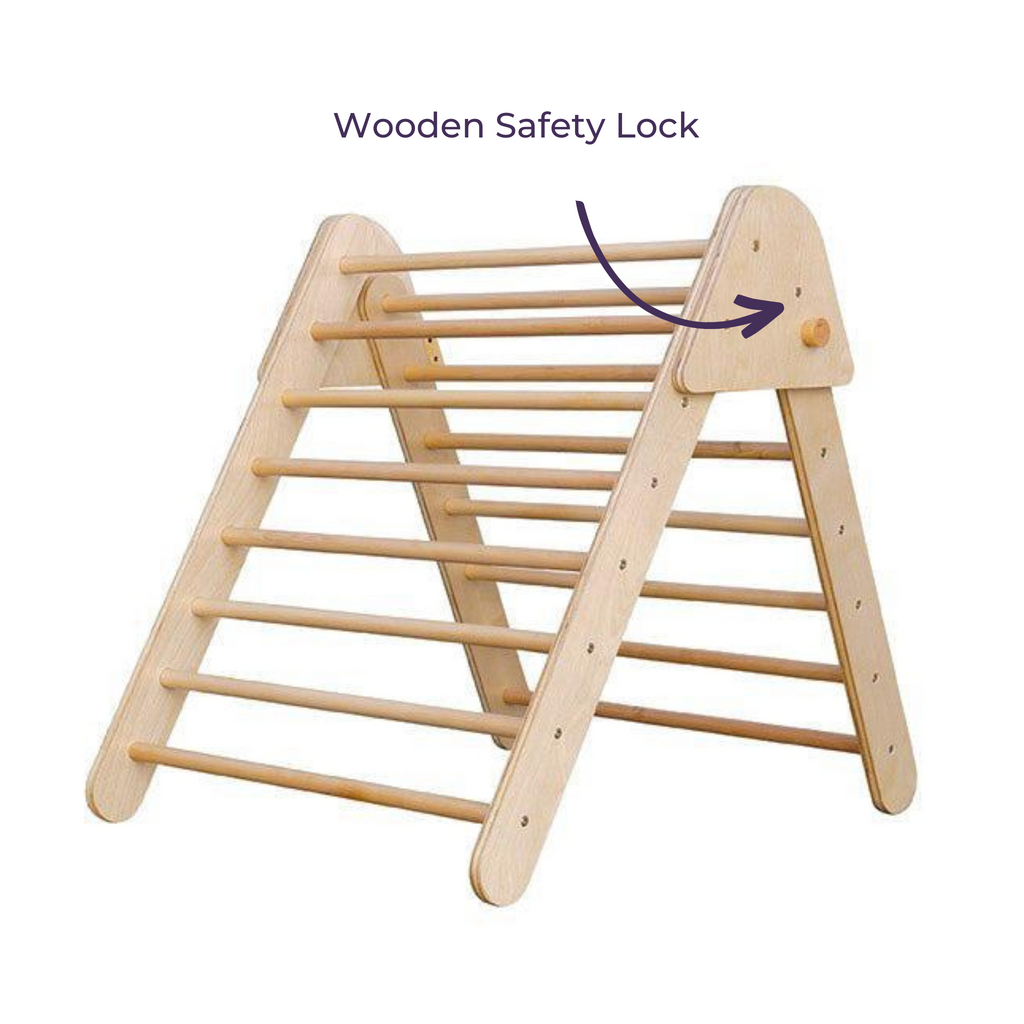 Wooden Safety Lock for extra stability
Compatible with all our accessories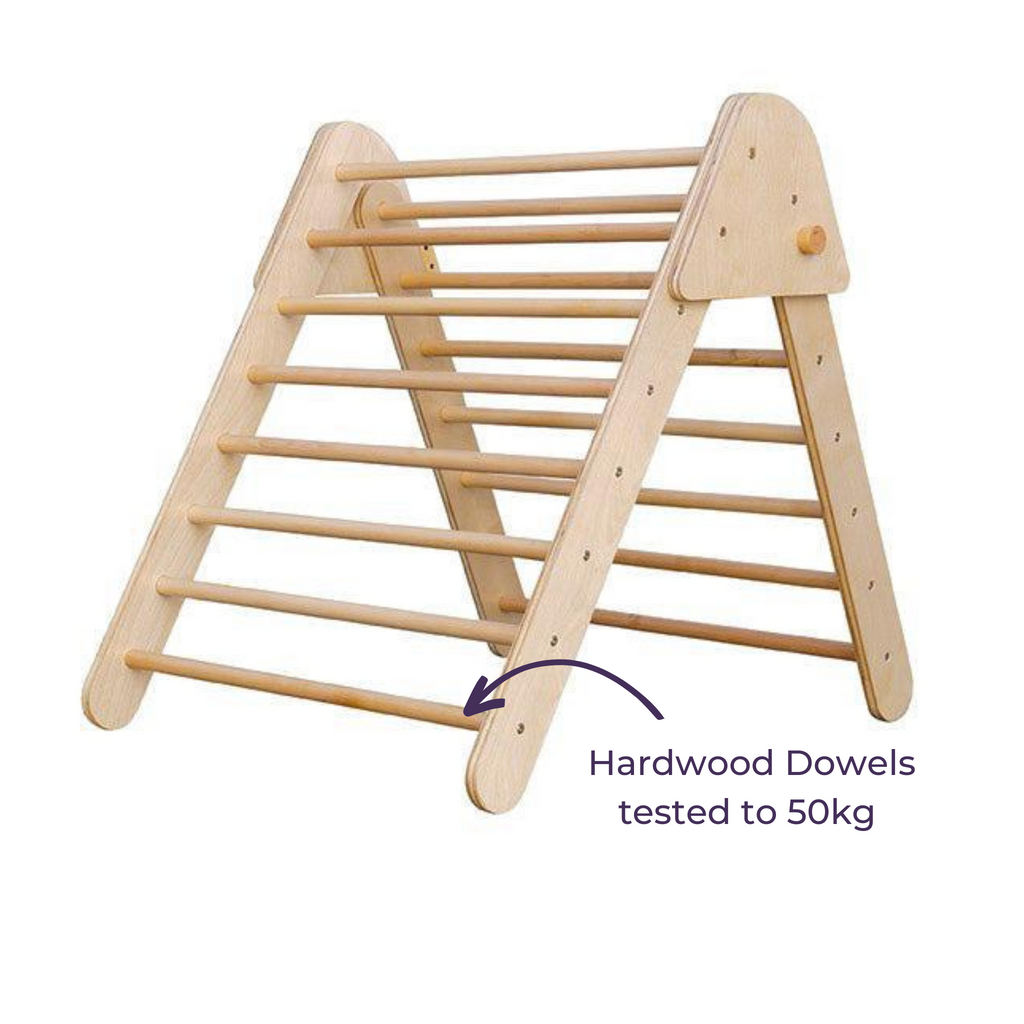 Weight Tested to 50kgs
Wooden Safety Lock for extra stability
Description

Unlock Boundless Adventures with the Varnished Grande Pikler Climbing Frame: Elevate Play and Development the Montessori Way

Are you seeking an exceptional and safe platform to nurture your child's physical abilities and strength? Look no further than the Varnished Grande Pikler Climbing Frame. Rooted in Montessori principles, this climbing frame is thoughtfully designed to engage your child and inspire them to conquer new challenges. With a substantial weight-bearing capacity, you can trust that this frame provides a secure and sturdy space for your child's explorations.

Premium Varnished Finish for Peace of Mind: At My Happy Helpers, we prioritize safety and excellence. Our Varnished Grande Pikler Climbing Frame is crafted using premium materials and boasts a superior varnished finish. This ensures both durability and a beautiful aesthetic. As with all our products, this frame has undergone thorough testing, complying with stringent safety standards to give you peace of mind.

Superior Stability: The Varnished Grande Pikler Climbing Frame stands out for its market-leading stability, ensuring your child's safety and optimal play experience.

Safety First at My Happy Helpers: Safety is our utmost concern. We take great pride in designing products that meet or exceed relevant Mandatory and Voluntary Safety Standards. The Varnished Grande Pikler Climbing Frame is equipped with carefully engineered safety features, providing a secure environment for your child's play and climbing activities.

Inspired by the Philosophy of Emmi Pikler: Our climbing frame draws inspiration from the pioneering work of Hungarian pediatrician Emmi Pikler. Embracing her philosophy, we encourage children to develop at their own pace and explore their physical abilities in a nurturing environment.

Promoting the Pikler Approach: We are dedicated to promoting the Pikler approach to child development. The Varnished Grande Pikler Climbing Frame serves as an ideal tool to introduce your child to this philosophy, empowering them to reach new physical milestones with confidence. 

Unleash your child's potential with the Varnished Grande Pikler Climbing Frame, an extraordinary Montessori-inspired experience that elevates playtime and fosters development. Trust in the quality and ingenuity of this product to enhance your child's growth and explorations, while providing a delightful addition to your home.

Combine this folding Pikler climbing frame with the rest of our Pikler range for an indoor playground adventure!
Features

Side Safety Lock so that the Triangle can not close during use

Varnished in a certified Non Toxic Clear Lacquer to ensure easy cleaning 

Folds shut for easy storage

Independently weight limited tested to a static weight of 50kg

Please be advised that our My Happy Helpers® Adjustable Folding Triangle is crafted using natural plywood and hardwood materials. Consequently, slight variations in the wood grain may occur, which is typical of natural wood products. Furthermore, the edges of the plywood may display a pinhole appearance, which is also a natural characteristic and should not be considered a flaw. We want our customers to be informed about these natural imperfections before purchasing, enabling them to make an informed decision. If you have any inquiries regarding our product or materials, please do not hesitate to contact us.

Meets Australian / New Zealand Safety Standards 

 
Specifications

Size:

83cm H x 73cm W x 1m when fully opened

Recommended Age: 6 - 60 Months with Parental Supervision.

Designed to be used by a single child at any one time  
Adult Supervision required at all times
Our Foldable Climbers include a fastener that locks the frame open while in use. When the Climber is not in use, the fasteners must be removed, stored and kept safely out of reach of children.

Cleaning:

Clean with a warm damp cloth and dry immediately. Avoid cleaning products and chemicals as they may damage the wood.

Ensure all hardware is properly tightened and checked regularly.

Check that all pieces are free from damage before each use.

The lifespan of this product will be extended if regular maintenance is ensured.

 
Not happy with the Pikler triangle and ramp
1. Quality is not as good as expected for its price: there are some small holes on the main frame; many of the holes for the screws are off (even after several adjustments) - made it really hard to screw in without chipping
2. One of the circular adjustment knob/screw is faulty: we managed to screw it in safely in the end, but it can't be used to adjust the folding pikler without the hexagon allen key (The original design is to fold the pikler by untightening the circular knob)
3. Awkward design of the ramp/slide/ball run: tried using it as a slide for my 1 y.o. but his little feet hit the bottom end hard and it seems to really hurt (Is the ramp not meant to be a slide, and only as a ball run???)
Also, the assembly is complicated, and the company metal plate on the pikler is now rectangular, instead of a circle (which is less aesthetically pleasing I think).
(Videos and photos on Product Review)
Hi Katy, the knob requires an allen key to loosen so that your child doesn't remove the knob without you realising - thus ensuring your child remains SAFE while the Pikler is in use. Sorry to hear you're unhappy with the new design of our logo - fortunately it doesn't affect your little ones play in anyway :) You may also wish to revisit the website - where it outlines that if youre not using the Ball run between piklers, then you should remove the ledge on one end of the Ball Run to create a safe place for your little one to slide.
I am pleased to se you were able to to shop our Black Friday sales and receive your Ball Run for free. Thanks for the review
Good quality
The quality of the pickler climbing set is sturdy and lioksgood. I weigh under 45kg and tried it myself. Bubs will enjoy play on it as he grows.
There is a bit of varnish gunk on the corner but does not affect use. Still, we did not pay for a 2nd. Please thoroughly check pieces before sending out