Regular price
$184.95 AUD
Regular price
Sale price
$184.95 AUD
Unit price
per
Sale
Sold out
or 4 payments of $46.24 AUD
Frequently Asked Questions

When will my product arrive? We are based in Melbourne and dispatch within 24hrs. You will receive courier tracking as soon as your order is dispatched which will provide you with up to date delivery timeframes.

Can I return an item? We offer a 30 day change of mind exchange. The item must be unopened and unused - our full terms and conditions can be found here.

Can I see your Learning Tower Range in person? You can visit our Retail Store in Dandenong South, Victoria Mon-Fri. We also have a number of stockists across Australia. Contact us for interstate Stockists.
Product Highlights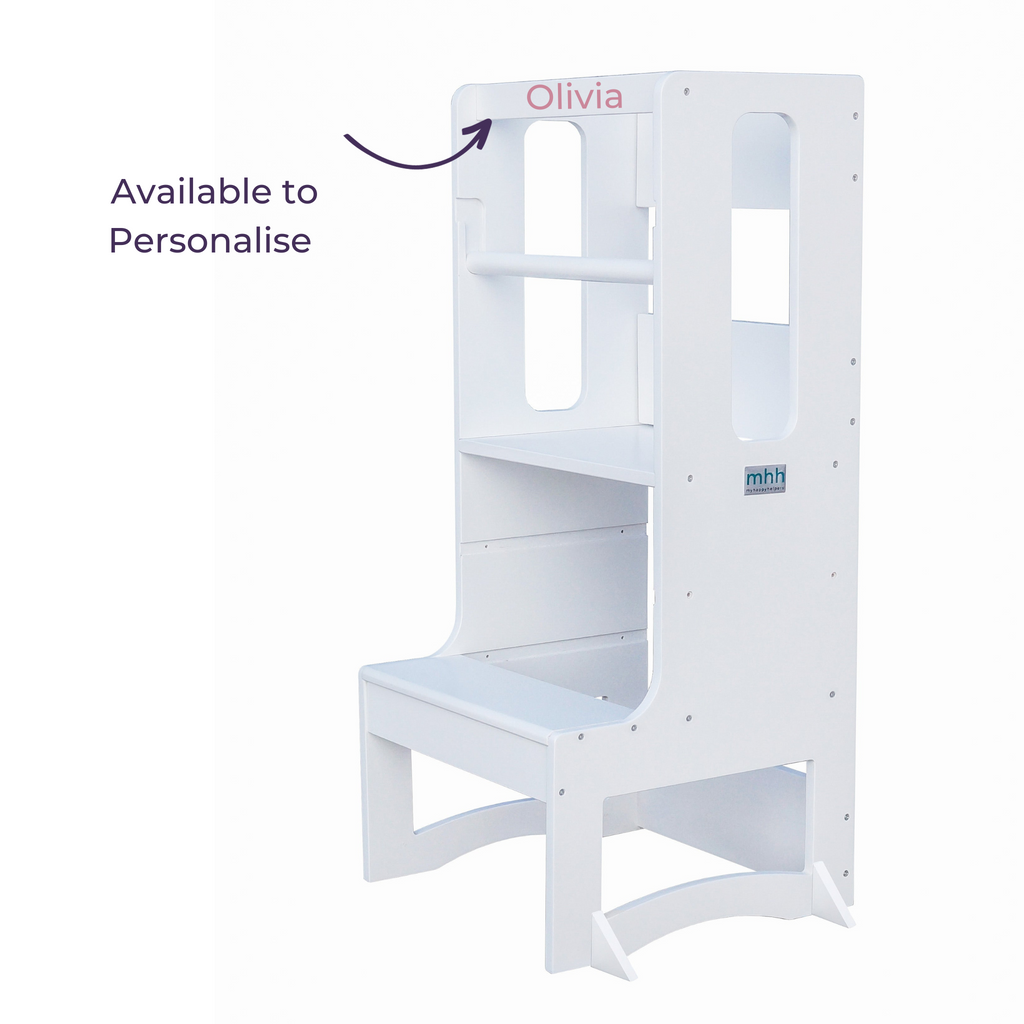 Available to Personalise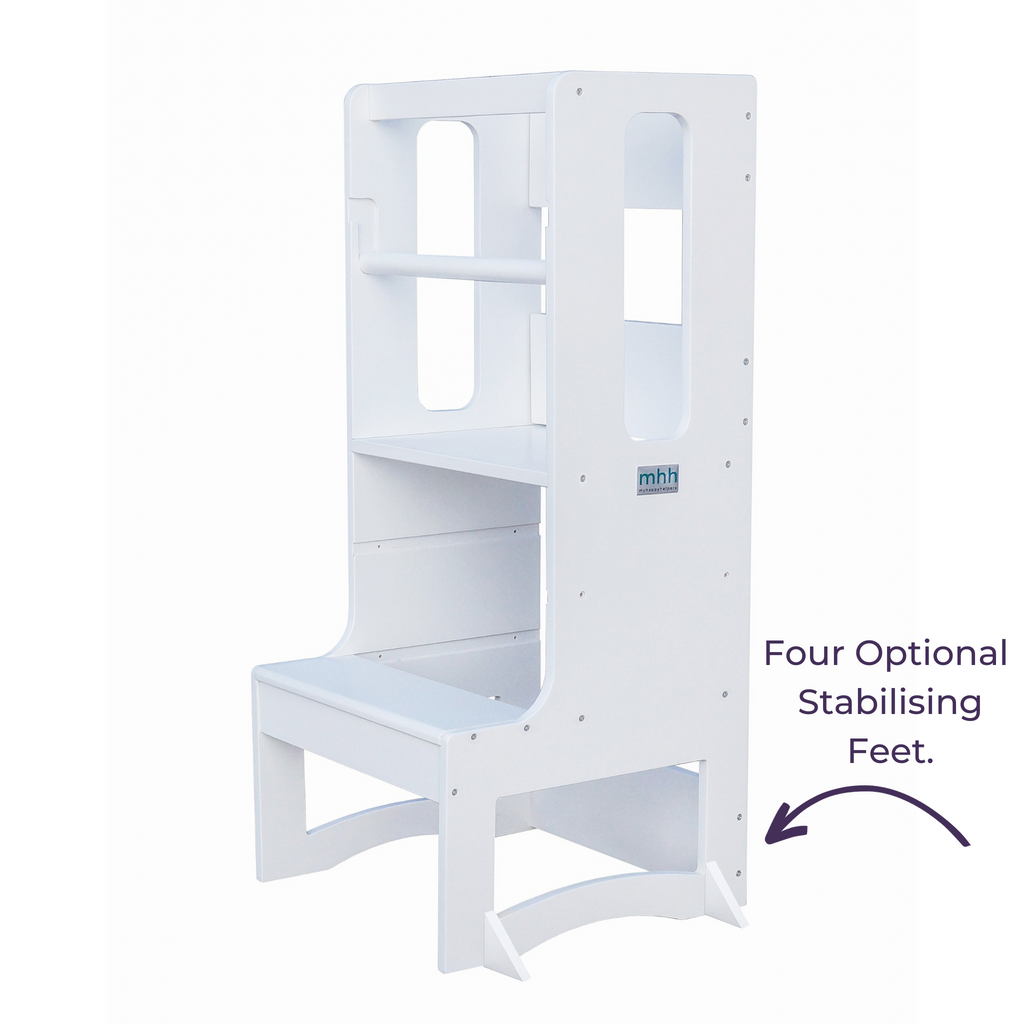 Removable Feet
Adjustable heights to grow with your little one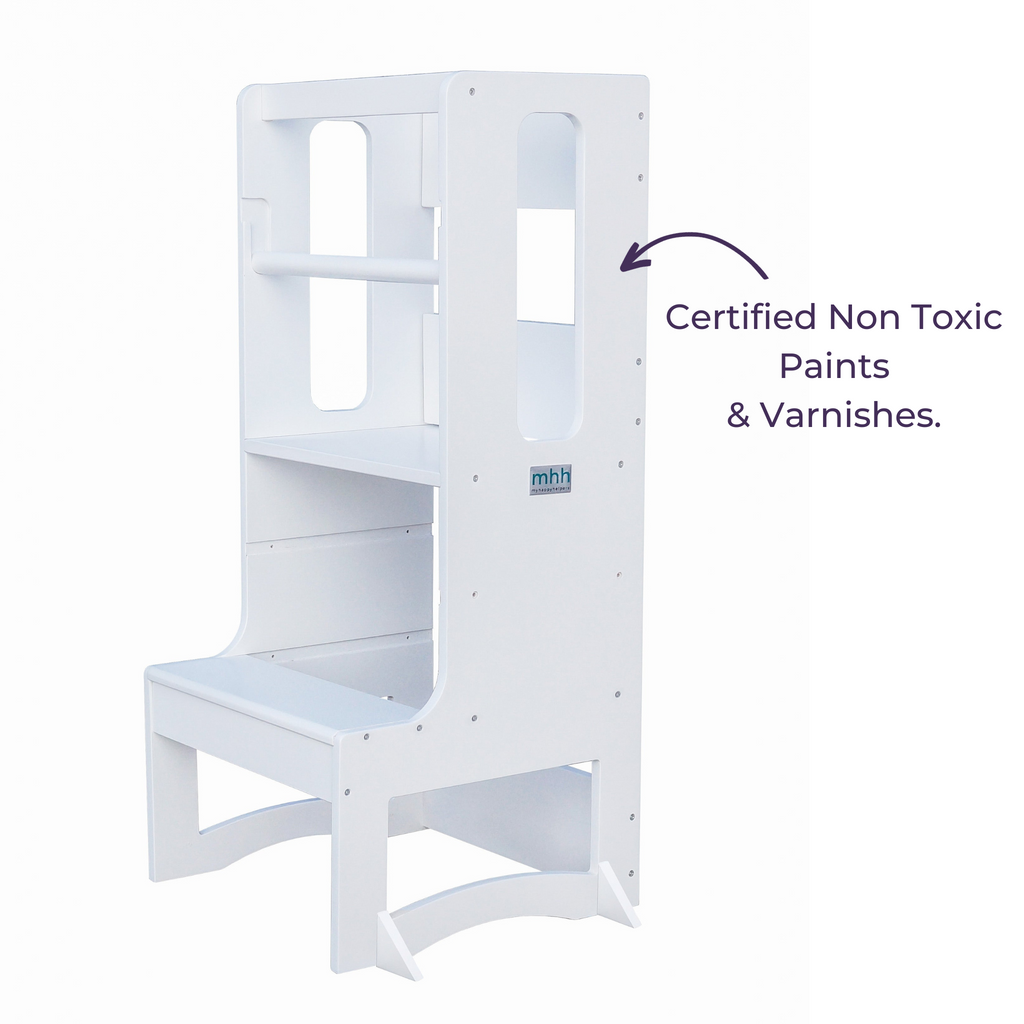 EN71 Certified Non Toxic Paints
Description

Are you a parent looking for ways to engage and create lasting memories with your toddler? Look no further than the My Happy Helpers® Evo  Learning Tower! Our tower is specifically designed to make cooking and baking activities a fun and interactive experience for both you and your child.


Unmatched Design and Safety Standards

Premium Materials: Crafted with Care and Safety in Mind: Our tower is meticulously crafted using premium European A Grade Birch Plywood, ensuring durability and longevity. Our Learning Towers are tested against AU/ NZ / EU and US Chemical and Stability tests. Rest assured, our products do not contain harmful levels of heavy metals, and we never compromise on quality by using inferior materials like paper overlay or MDF.

Superior Stability: Market-Leading Safety and Performance: When it comes to safety and stability, our tower stands head and shoulders above the rest. Building upon Australia's favorite design, we continue to make small but impressive enhancements to ensure superior stability and functionality. We take safety seriously and have meticulously considered potential risks that others overlook. Your peace of mind is our top priority.

All My Happy Helpers Learning Towers comply with relevant Australian and New Zealand Safety Standards 
Features

Stunning Design Patented Slimline Design

Weight limit tested to 100kgs

90cm (H) x 40cm (W) x 40cm (D)

Each Tower weighs approximately 7kgs

3 Easily Adjustable Step Heights

Additional removable safety bar - Should be removed when your child is around 100cm or taller. 
Specifications 

Size and Age Recommendation: The Evo Learning Tower measures 90cm (H) x 40cm (W) x 40cm (D), making it suitable for various kitchen and bathroom spaces. We recommend this tower for children aged 12 months and above or, suitable to be introduced once your toddler is competently standing on his / her own feet. Adult supervision is required at all times and arms length supervision is imperative.  

Safety Precautions and Additional Notes: We want to ensure that you have all the necessary information to make an informed decision. Prior to purchase, we urge you to read the Safety & Warranty Information provided. It contains essential safety precautions and additional notes to ensure the optimal use of our tower.

Your Child's Posture and Safety: While using the Evo Learning Tower, it is crucial to keep a close eye on your child's posture. If their hips rise above the top of the tower, it's time to adjust the step height to prevent any accidents. We prioritize your child's safety and want you to have complete peace of mind as they explore the world around them.

Important Information: Please Read Before Purchase:

Water Exposure Precautions: To ensure the longevity of your tower, avoid exposing it to water or leaving it in standing water. If water is accidentally spilled onto the tower, promptly wipe it dry. Please note that damage caused by water or water exposure is not covered under warranty.

Natural Characteristics of Birch Plywood: Birch Plywood may exhibit a slight "pinhole" effect on the edges of the board. This is a natural characteristic of using natural timbers and should not be considered a defect. We encourage you to appreciate the uniqueness of each Learning Tower, embracing its natural beauty.

Aesthetic Variation in Internal Grooves: The internal grooves in the plywood, where the steps slide in, may have a different finish compared to the rest of the tower. This is not a manufacturing fault but rather an aesthetic variation. We appreciate these distinct features that highlight the natural charm of timber.

Recommended Cleaning Methods: For regular cleaning, please use a damp cloth without any chemicals. Avoid using soapy water or baby wipes as they contain chemicals and alcohol that may adversely affect the timber and paintwork.

We want to ensure that you have the best experience with your Learning Tower. By following these guidelines, you can maintain its quality and preserve its unique characteristics for years to come.
Shipping 

Bulky Shipping

Our in stock products are usually dispatched from Melbourne within 24-48 hours.

For more information please see our specific Shipping & Deliveries pages.

For general questions, please see our Frequently Asked Questions pages.
Why My Happy Helpers Towers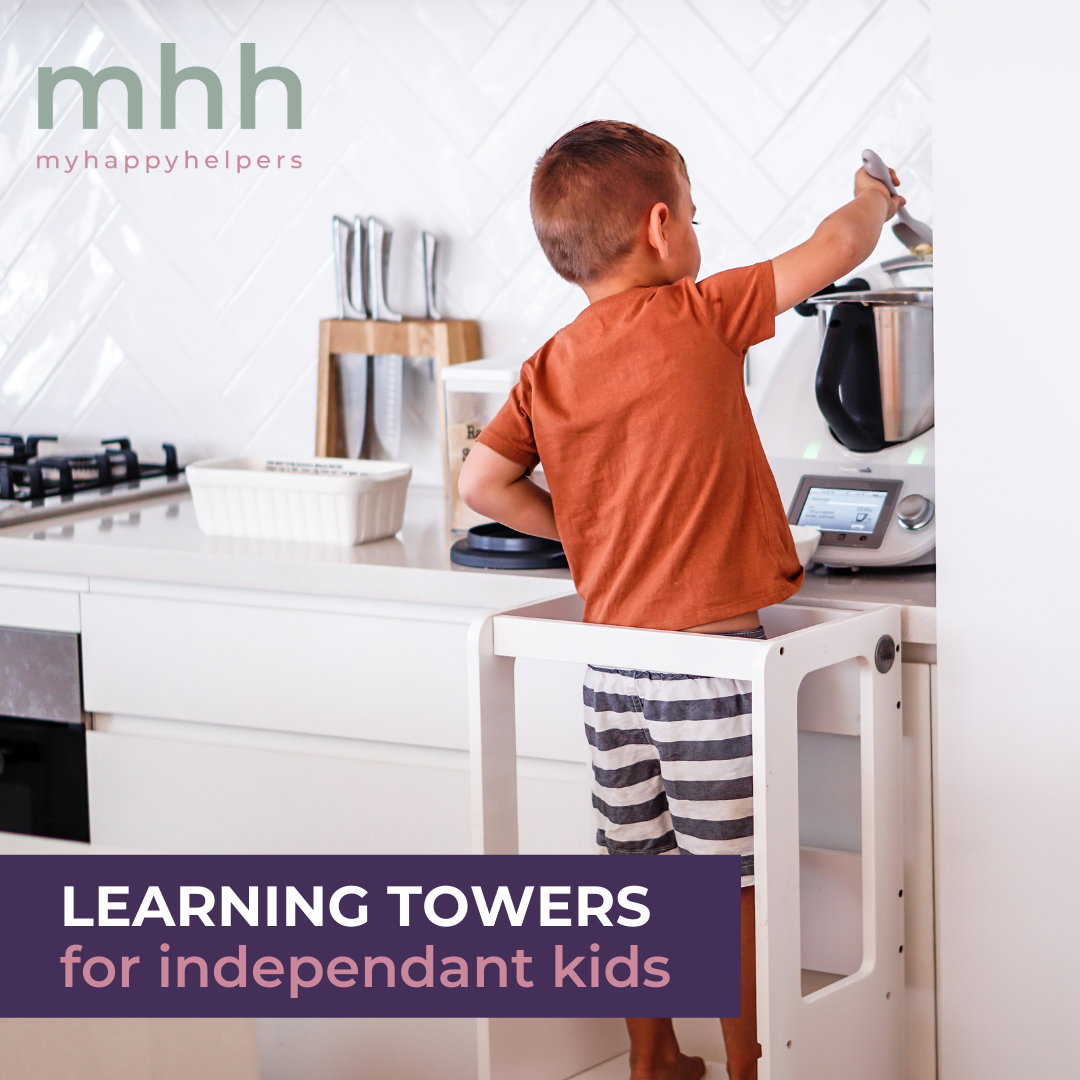 Focused on Functional Design:
The My Happy Helpers Adjustable Towers have captivated parents & children alike. Our innovative range is meticulously designed to provide a safe & enjoyable learning experience for your little one, empowering them to explore their world independently.
Independent Safety Testing:
When it comes to your child's safety, the My Happy Helpers Adjustable Towers leave no room for compromise. Engineered with a focus on stability, our towers feature a robust construction that ensures your child can explore and learn with confidence. The sturdy base and precise weight distribution ratio provides a stable foundation from which your little one can confidently explore.
By selecting a My Happy Helpers Tower, you can ensure a safe, enjoyable, and enriching experience for your child during meal preparation, kitchen activities, and beyond.
Invest in a My Happy Helpers Tower and witness your child's independence, confidence, and joy thrive.
Customer Photos
Cooking with the Thermomix
Unparalleled Features for Your Child's Comfort
Stunning Design Patented Slimline Design: Beauty and Function Combined: A My Happy Helpers tower boasts a stunning design patented slimline design that seamlessly blends into your kitchen or living space. It not only serves its purpose flawlessly but also adds an aesthetic touch to your home.
Weight Limit Tested to 100kgs: Built to Last: We have rigorously tested the weight limit of our tower to 100kgs, ensuring its sturdiness and durability. It can withstand the test of time, providing a reliable platform for your child's adventures.
Additional Safety Bar: Protecting Your Child Every Step of the Way: To ensure maximum safety, we provide a removable safety bar with our tower. This bar should be used until your child reaches around 100cm in height or is taller. It adds an extra layer of security during their exploration.
Thousands of Satisfied Customers:
Don't just take our word for it! The MHH Adjustable Towers have received rave reviews from thousands of satisfied customers worldwide. Parents have witnessed firsthand the positive impact our towers have had on their child's development, making them a trusted choice for families everywhere.
Our customer reviews are a testament to the long-lasting impact our Adjustable Towers have on their little one's development. Parents have shared stories of their little ones eagerly exploring new heights, using the towers as a platform to engage in imaginative play, assist with meal preparation, or delving into artistic endeavors.
Our tower will become such an integral part of your child's daily routine, enhancing their motor skills, cognitive abilities, and overall growth, that you'll wonder how you ever survived without one.