Evo Deluxe - White and Walnut
Regular price
$189.95 AUD
Regular price
Sale price
$189.95 AUD
Unit price
per
Sale
Sold out
or 4 payments of $47.49 AUD
Product Highlights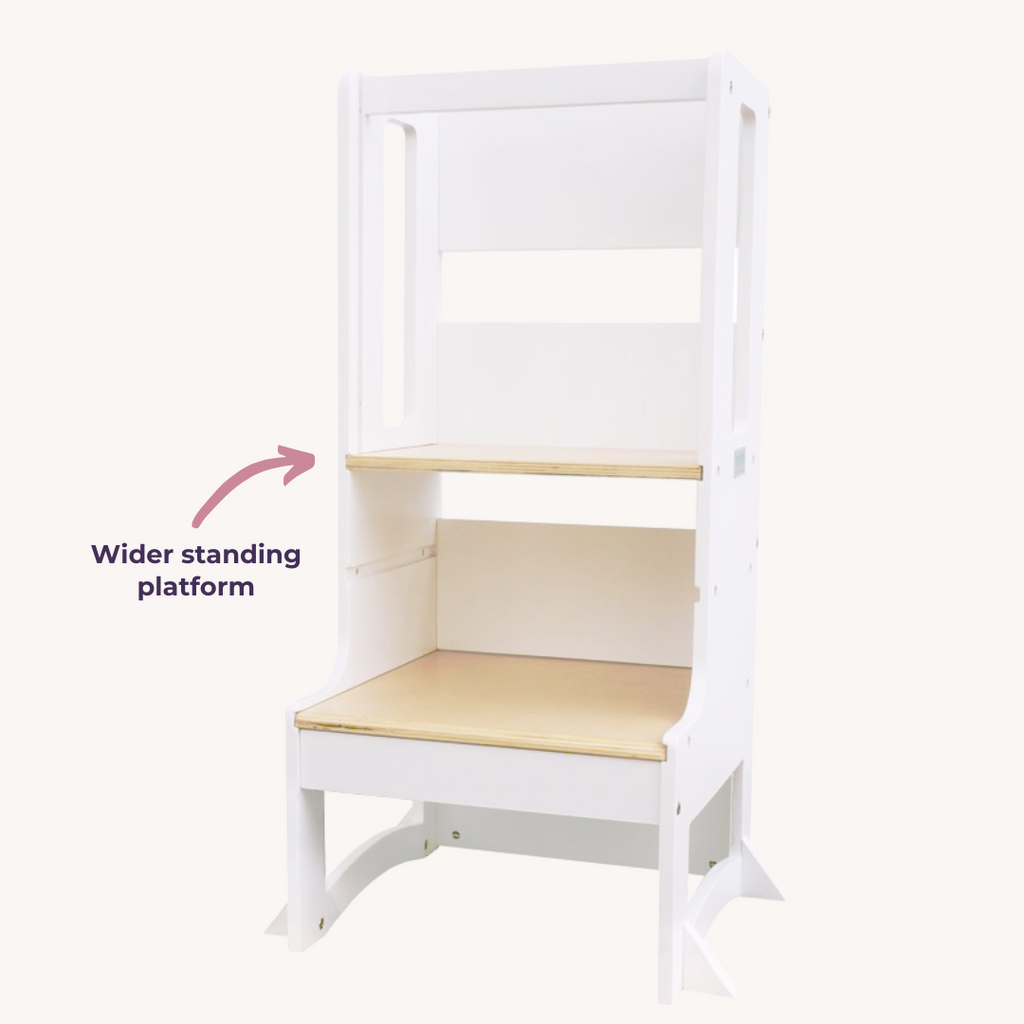 Optional Solid Blackboard Backing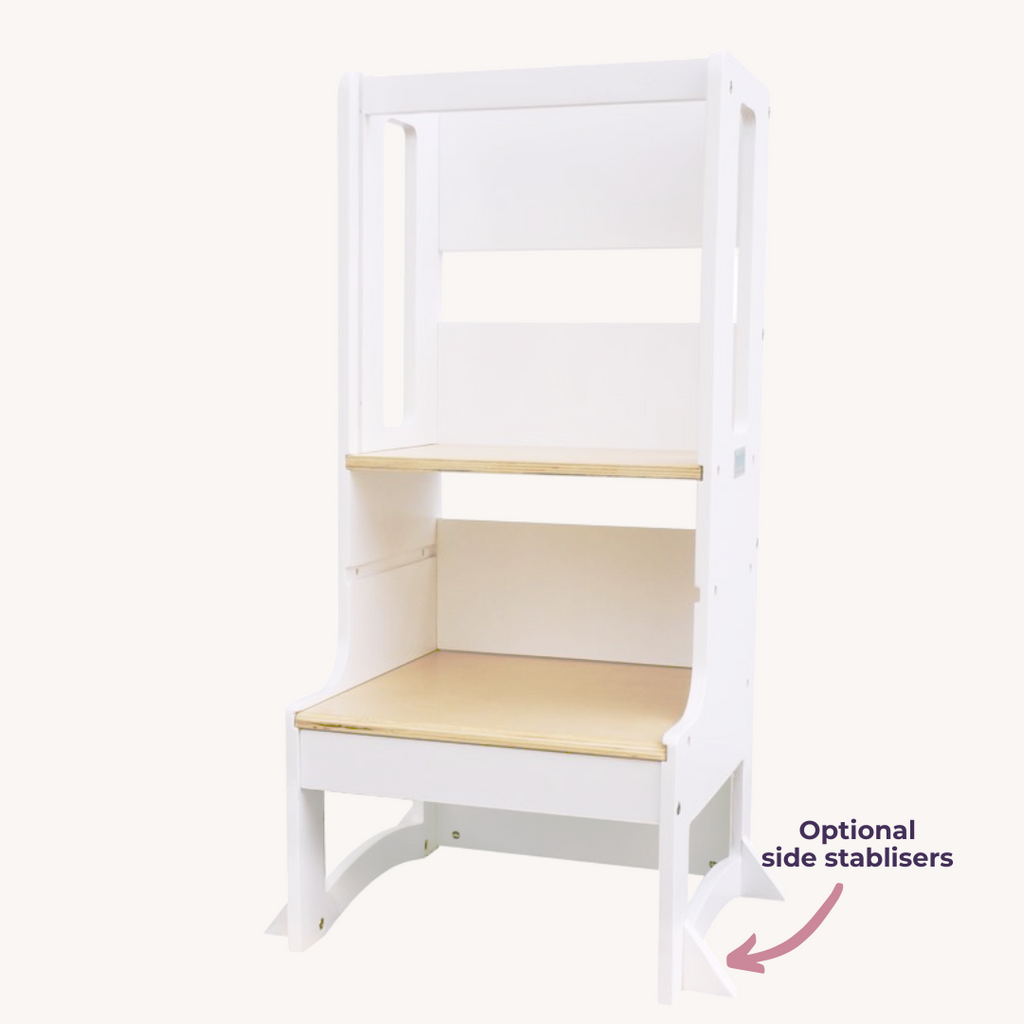 Raised sides to manage 'slip risk'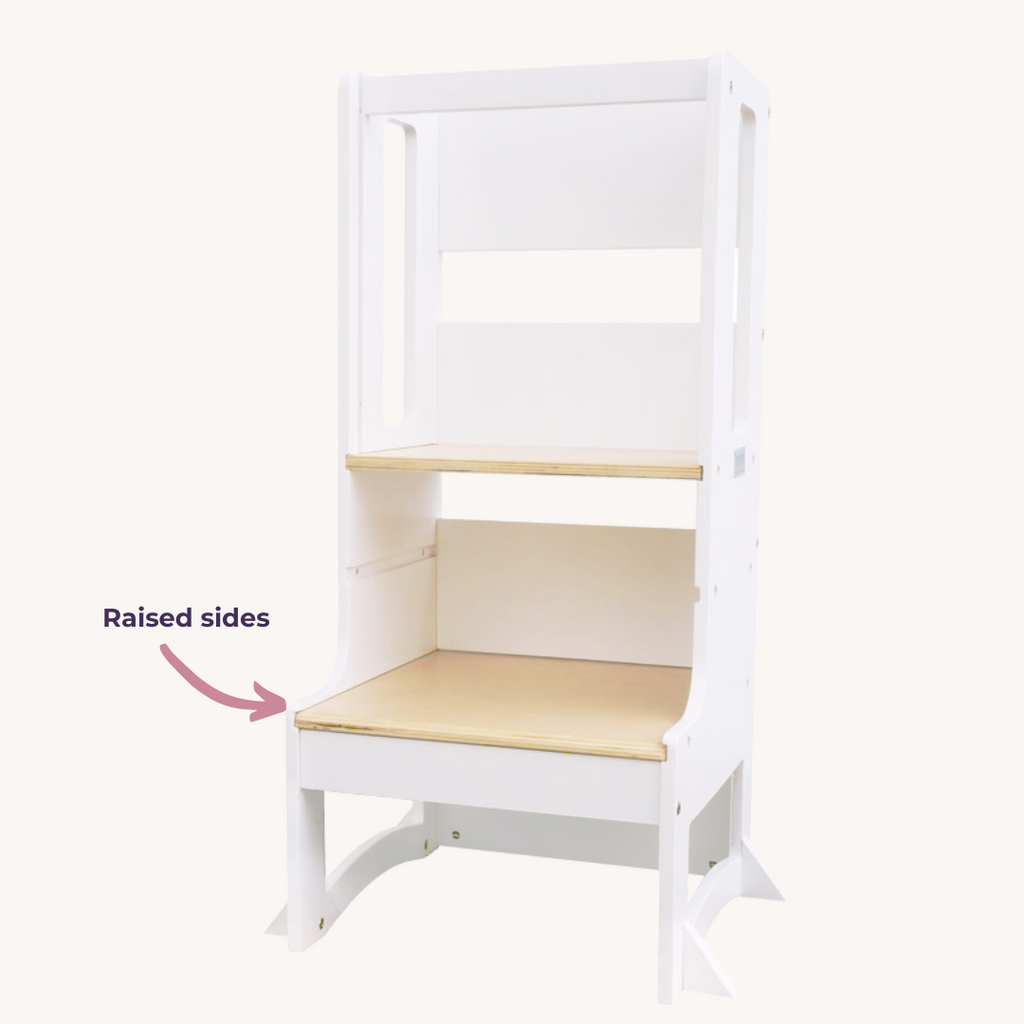 Removable Side Stablisers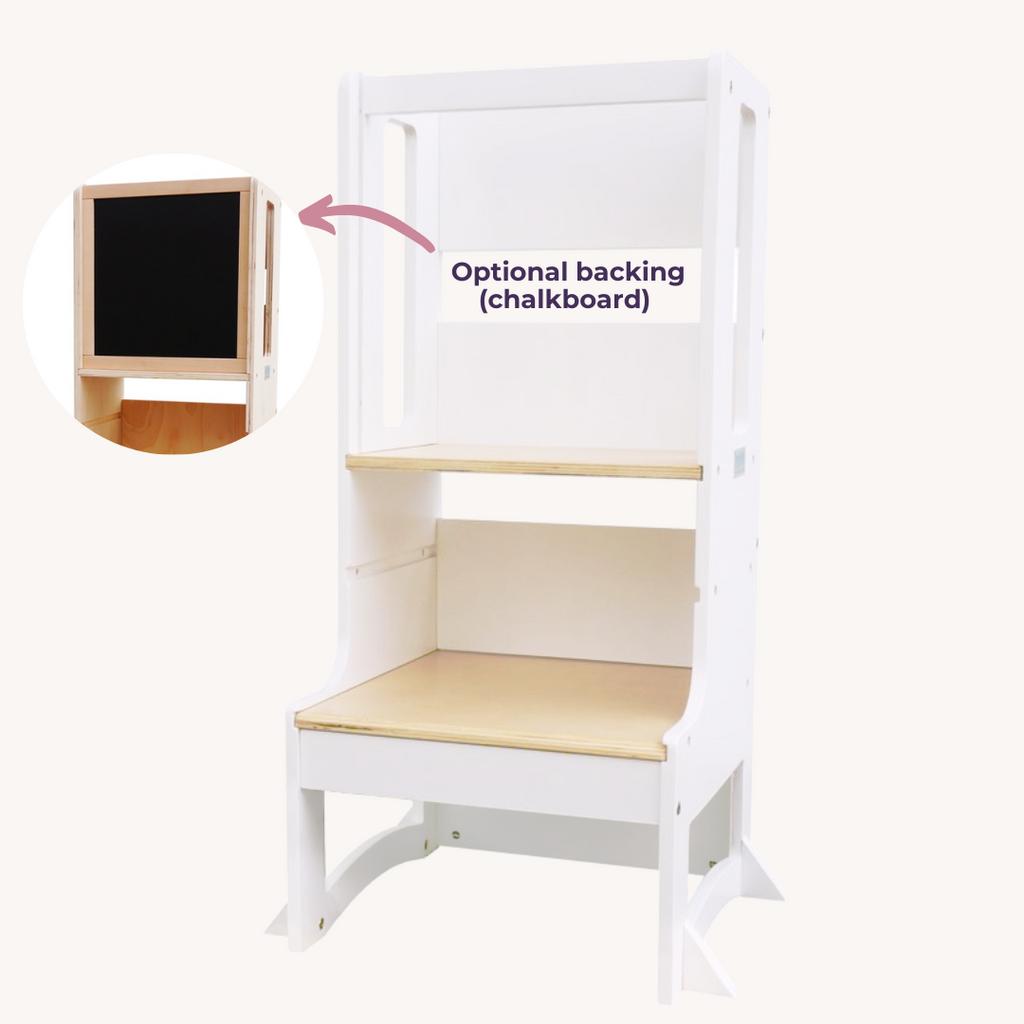 Wider Standing Platform Sturdier for kids
Description

Australia's Safest Learning Tower

MyHappyHelpers™ Patented Evo Deluxe Learning Tower is the safest height adjustable Learning Tower on the market.  

Featuring: 

Premium Materials: Constructed with premium European A Grade Birch Plywood and independently tested to comply with the most stringent European, Australian and US Chemical tests.  You can be confident our products do not contain harmful levels of heavy metal (unlike others on the market) and are not made with inferior materials such as paper overlay or MDF. 

Superior Stability: Small but impressive changes to Australia's already favorite design, means our Evo Deluxe Learning Towers continue to be the market leader in safety, stability and performance. 

Safety First: We pride ourselves on considering the risks that most parents would be unaware of. Simple design flaws that may allow for head and neck entrapment, tip over risk, slip risk, or problematic upper and lower weight ratio are things you simply don't need to worry about when you purchase a My Happy Helpers Tower. We independently test our designs before we go to market and we continue to test our designs on a rolling 12 month schedule.

All My Happy Helpers Learning Towers comply with relevant Australian and New Zealand Safety Standards see here for further information. The Evo Deluxe Range also complies with additional safety and stability tests set by the European Union and the USA.
Features

* Stunning Slimline design suitable for even the narrowest of kitchens.

* Weight limit tested to 100kgs

* 90cm 9H) x 40cm (W) x 39.5cm (D) - Each Tower weighs approx 8.5kg.

* 3 Easily Adjustable step heights.

* Additional removable Side Stabilisers.

* Raised sides on the bottom step to ensure your child doesn't slip sideways when climbing into their tower.

* Additional support across the back of the tower, improving stability even further.  

All our Towers come with a Wooden Safety Bar at the top of the tower to ensure your little one stays put !

For very young tots we also have optional Blackboards available.

* All Blackboard frames are varnished birch colour, with the exception of White / Walnut & White/ Slate which have white colored blackboard frames. 

**Please be advised that there may be some slight colour variations due to lighting or computer screen exposure.
Specifications 

Size: 90cm x 36.5cm x 40cm Wide

Recommended Age:

12+ Months  - Suitable to be introduced once your toddler is competently standing on his / her own feet. Adult supervision is required at all times and arms length supervision is imperative.  

* The Evo learning tower comes with 3 adjustable levels.  We recommend that the highest level be used for a child up to around the age of 2-2 ½ years old (or approximately 80-90cms tall or weighing in the range of 14kgs – 16kgs).  While this is a guide it is important to remember that if your child's hips are above the top of the learning tower then it is time to reduce the step height.

Please read before purchase

* Ensure your tower is not exposed to water or left standing in puddles of water and if water is spilt onto the tower, please wipe dry. Damage caused from water or exposure to water will not be covered under warranty. 

* Birch Ply Wood may result in a slight 'pinhole' effect on the edges of the board. This is not considered defective in any way and is simply the result of using Natural Timbers. 

* The internal grooves in the plywood where the steps and blackboard slide in can have a different finish to the rest of the tower. This is not considered a manufacturing fault and is simply aesthetic. 

* Please do not subject your Learning Tower to water other than normal cleaning conditions - a damp cloth without chemicals. Do not use soapy water or baby wipes as they contain chemicals and alcohol which may adversely affect the timber.

Adult supervision is required at all times and arms length supervision is imperative.  
Shipping 

Bulky item

Our in stock products are usually dispatched from Melbourne within 24-48 hours.
For more information please see our specific Shipping & Deliveries pages.
For general questions, please see our Frequently Asked Questions pages.
The walnut colour is so beautiful!
The walnut colour is so beautiful! This is exactly what I'm looking for. My 18 months old loves it too. He is very tall, so I regret I didn't buy earlier. Luckily it's adjustable.